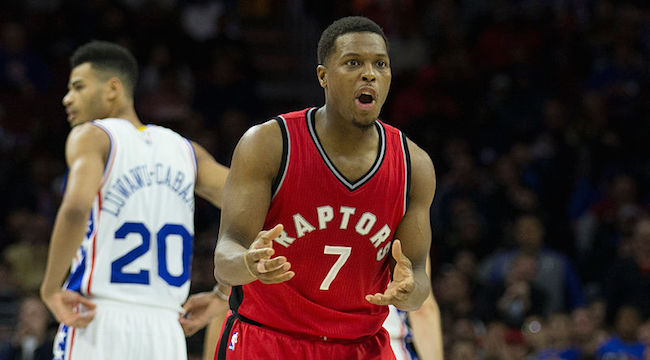 Philadelphia police have cracked a multi-million dollar jewelry burglary ring that hit multiple homes in the Delaware Valley area, including Kyle Lowry's home, according to CBS 3.
The heists were based out of a Philadelphia jewelry shop that served as a front for the burglaries. Police determined that V Jewelers, owned and operated by Wasim Shazad, moved, resold or melted down millions of dollars of stolen jewelry after searching multiple safes in the store. There are currently 15 burglaries that police have connected in the ring, which reportedly include's Lowry's Main Line home, with the biggest heist collecting $600,000 worth of jewelry from one home.
Police told CBS 3 that the burglars "would run surveillance on their victims and go to extremes to avoid tripping sophisticated security systems." The four burglars were arrested over the summer, but Shazad's involvement as the "fence" of the operation was just now found, and he was released on $250,000 bond, while his four accomplices all remain in jail waiting for a preliminary hearing.
This appears to have been an extremely calculated, movie-like heist operation that simply targeted houses with lots of jewelry. These weren't just smash-and-grabs or a guy taking a bucket of gold off of a truck and then leaving the country.
This would be a lot more fun if this was another bucket of gold heist or we could just pretend this was some weird NBA Ocean's Fourteen reboot, and the NBA's best would have to avenge Kyle Lowry by stealing his jewelry back (the farthest I've gotten in casting this in my head is LeBron James as Danny Ocean, Chris Bosh as Livingston Dell, Russell Westbrook as Basher and Joel Embiid as Linus Caldwell).
However, people's homes were robbed, and families were put into danger. Hopefully, the jewelry stolen from Lowry's home and the others can be returned or replaced, and luckily there doesn't seem to have been any bodily harm done to any of the victims or their families.