The Oscars were on last night, and the boo YEY Meryl Streep gave Patricia Arquette for her Oscar acceptance speech was the oppposite of our reaction to Kyrie Irving's "acting" a couple of weeks ago.
In the earlier Foot Locker project, Kyrie played a dead witness with Ice T in a Law and Order "SVU" parody before All-Star Weekend. Irving's newest ad — indirectly about new Kyrie 1 colorways dropping at Foot Locker — aired right before the Academy Awards, and showed Irving practicing his acceptance speech for his prior "performance."
Irving's speech is almost as cringeworthy as the nine takes he needed to play a flatlining witness, but kudos to Foot Locker for the timing of the spot and to Irving for so easily poking fun at himself.
There's no way we'll get as excited as Meryl (he's no latter-day Mary Wollstonecraft like Arquette)…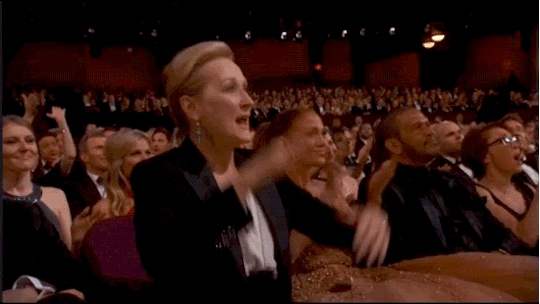 But we'll give him a slight Wes Anderson smile: