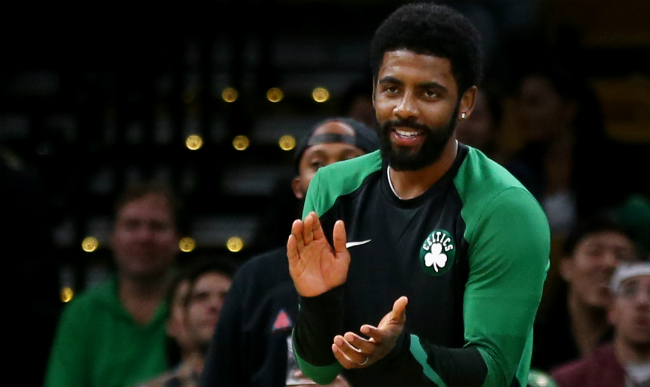 Kyrie Irving certainly sounds like he has no intention of leaving Boston. The Celtics' star guard announced on Thursday night that, as long as the team and its fans will have him, he plans on re-signing with the team upon becoming a free agent next summer. Seeing as how Irving is one of the top point guards in all of basketball, it was a gigantic win for Boston and terrible news for the teams that hoped to push for his services.
One day after his announcement, Irving met with the media and gave some insight into his decision to stick around once this season comes to an end. Most notably, Irving spoke of the sheer gravity that playing for the Celtics possesses, and how he's motivated by the possibility of seeing his jersey number hanging in the rafters at TD Garden.
"I think the important thing was just being happy and having an environment where I'm challenged on a physical level, but as well as mental, and I can get better as a basketball player and as a man and grow here," Irving said. "I do have a dream of putting my number 11 in the rafters one day, if I'm so blessed to do that. Work my tail off, obviously a lot of great players have come before me, but to throw my name in Boston Celtics tradition and history is something I'm glad I can do and I plan on doing."
It's quite the lofty aspiration, but seeing as how the Celtics have retired 22 numbers, it's certainly attainable. Boston loves to honor the greats who have worn their uniform, and while Irving isn't in the same realm as any of those Celtics legends, he's giving himself plenty of time to earn that honor. Irving also expressed the feeling of gratitude that he has towards the franchise — both for believing that he was worth acquiring and for getting him out of his old situation.
Irving being unhappy at his situation in Cleveland isn't a surprise to anyone, but it's still telling that he swiped at how things came to an end with the Cavaliers. But now, Irving is in a place where he's happy and he hopes to stay for the rest of his career, and not just for reasons pertaining to his basketball career.
As someone who has also recently moved, Irving is absolutely correct and this is, perhaps, the most relatable thing that a professional athlete has ever said.