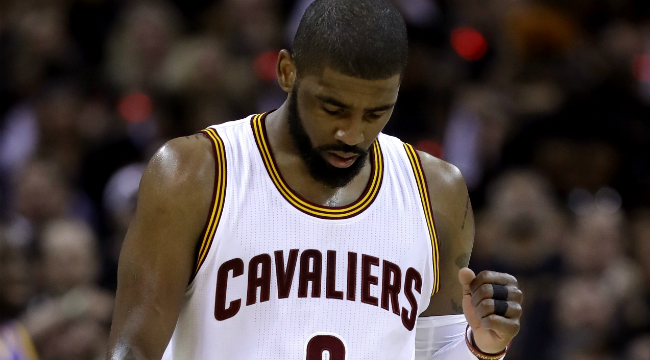 Kyrie Irving's trade to the Boston Celtics seemed to come together quickly on Tuesday, especially considering the fact that Irving asked out weeks ago. But now reports seem to indicate the timeline for Irving's trade was pushed up considerably.
An ESPN report on Wednesday indicated that Irving had no interest in attending Cavaliers training camp, a move that made a deal with the Celtics happen that much quicker. Though some Cavs players truly did think they could salvage Irving's relationship with James and the team, it turns out that Irving was very much done with Cleveland and the professional basketball team that plays there.
Multiple Cavs players told ESPN they hoped Irving would remain on the team, believing they could work out their differences like a family and have another crack at beating the Warriors together.

In recent weeks, that idea became unrealistic, as Irving let it be known that he would rather not report to training camp than begin another season with Cleveland, sources told ESPN.
It sounds like the Cavaliers were stalling in hopes that some players could change Irving's mind. But as the article notes, much of the delay came from Cavaliers owner Dan Gilbert and his desire to make it a "big name" swap rather than a move that might best help the team.
The delay, it turns out, was fueled more by Cavs owner Dan Gilbert's preference to land a "big name guy" — which Thomas is — and the reality that the Celtics, with president Danny Ainge's war chest full of assets, always could offer the most compared to any other realistic trade partner, sources told ESPN.
When it's put this way, it all seems like such a mess. Which means it's good that it's finally over. But we might not know who won this trade and who acted the right way until much, much later.