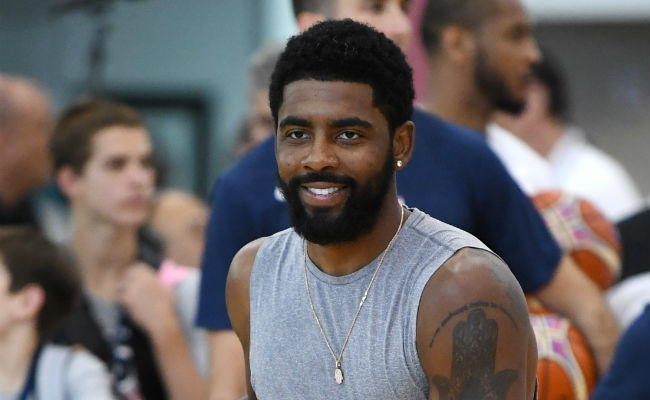 Kyrie Irving is healthy again, and that is very good news for the Boston Celtics. His body seems to have recovered from surgery that was a lot more treacherous than initially thought. Irving is expected to be "full speed" at Celtics training camp, and a pain-free Irving is a going to be a pain for the rest of the Eastern Conference this year.
LeBron James absconding to the West Coast and the shakeup in Toronto makes the Celtics the proverbial favorites in the East, if only because a healthy Irving and more than nine minutes of Gordon Hayward makes Boston, in theory, an even stronger team than the one that was on the brink of an NBA Finals berth last season.
And though no team is looking past the regular season, Irving was explicit in his goal: beating the Warriors in the NBA Finals. Irving spoke to ESPN's Jackie MacMullan for a story that dropped on Friday night. In it, he talked about the recovery from his knee procedure and his expectations for the yea, which includes mentioning the Warriors by name and explaining why the Celtics can beat them in the postseason.
"Can we beat Golden State in a seven-game series?" Irving asked himself rhetorically in the story. "Yes."

MacMullan asked why he believed that, and Irving spoke to the "special" team the Celtics have put together.
"Because of who we have," Irving answered, "and what we're establishing here, not just for this season, but for hopefully for the next few years, something that's pretty special.
Irving didn't leave it at that, either. He says he knows from experience what it takes to beat the Warriors, and with Boston it's his job to show his teammates the path in replicating that success.
"I've played against Golden State in three straight Finals (2015-17) — two that I was able to participate in — and seeing them evolve, with the talent they have, and then adding DeMarcus Cousins [this offseason], it's like 'OK, the whole league is on notice.'

"But there's one factor that they're aware of, and I'm aware of, and that's that I've seen them up close. I've played them so many times. We've gone in a seven-game series [when he was in Cleveland], so I know what it takes.

"Now, how do I communicate to our guys that this is the top-tier team, and we have to grow immensely in the next six months to beat them consistently? Not just one game, not just two, but in a seven-game series, because they're so dang great. They're a powerhouse."
Every team, of course, wants to win a title and will set that as the goal each year. But in an era where the Warriors have been truly dominant and somehow continue to find ways to improve their roster, few teams can realistically say they intend to beat them at the onset of the season. The Celtics, however, are one of those teams. And they do have a rare luxury in Irving, who played a huge part in Cleveland giving the Warriors their lone NBA Finals loss this decade.
Whether Irving's preseason prediction actually happens or not will have a lot to do with how healthy the Celtics can be by the postseason. That was an issue last year, obviously. But Irving says he's in great shape, everyone in Boston is upbeat and June is a long way away. Expectations, and optimism, are high.