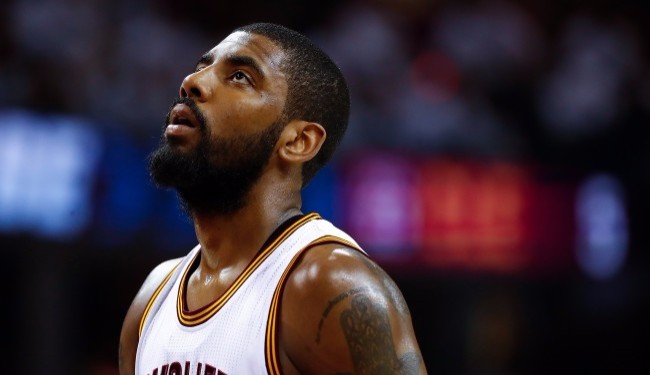 Though he might not be traded imminently, Kyrie Irving is on the trade market in the NBA this summer. And as we get closer to August and further away from that fact being made public, we're getting a better idea of what that trade market looks like for Irving and the Cleveland Cavaliers.
ESPN's Adrian Wojnarowski points out how unique a player like Irving is to hit the trade market. The sheer number of teams that have at least asked about what it would take to get Irving really is impressive.
So far, these are among the teams who've made offers to the Cavaliers for Irving, league sources tell ESPN: The San Antonio Spurs, LA Clippers, Phoenix Suns, Minnesota Timberwolves, New York Knicks and Miami Heat. There were approximately 20 teams that inquired with Cleveland upon the news of Irving's trade request, league sources said, but far fewer have registered legitimate proposals. More loom in the shadows, and many interested simply don't have the assets to make a deal happen.
Woj reports that the Cavs are looking for a deal similar to the one Denver got when it traded Carmelo Anthony to the Knicks in 2011. That means a mix of players who can help Cleveland compete now, young talent and future draft picks. Those kind of demands, however, mean some NBA teams simply don't have the resources to make a deal happen. Perhaps ironically, two of the teams in the best position to make a deal with the Cavaliers are also the least likely because of recent history.
Several suitors contend there are two teams with the best ability to make deals for Irving: the Suns and Boston Celtics. So far, the Suns are unwilling to include No. 4 overall pick Josh Jackson in a trade, league sources said. The Celtics are monitoring, but it's unclear how aggressive they'll get — and how motivated the Cavaliers would be to make a deal with their fiercest conference rival.

The Miami Heat are willing to part with Goran Dragic and Justise Winslow as centerpieces for an Irving trade, league sources said. With the Cleveland-Miami history, there's little chance for a deal unless the Heat offered an overwhelming package.
One GM says that Cavaliers GM Koby Altman has showed "real poise" in negotiations thus far, which is encouraging for Cavs fans who may have thought their new general manager could get taken advantage of in this process. But what he can get for Irving still isn't known and, of course, it's always more complicated than it seems.