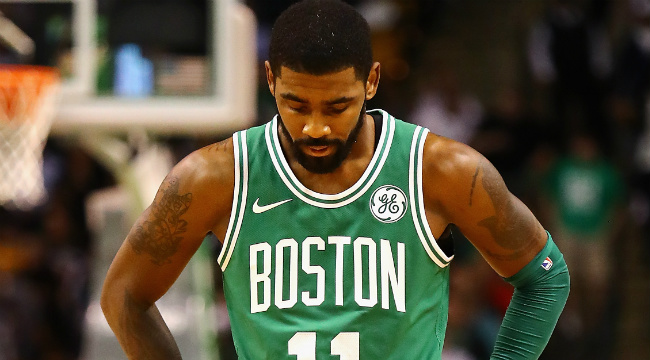 Kyrie Irving suffered a nasty injury during Boston's three-point win over Charlotte on Friday evening. Irving caught an elbow from Aron Baynes while the two were trying to defend a floater by Kemba Walker. He was bloodied, ruled out for the remainder of the game, and tested for a possible concussion.
Boston ended up beating Charlotte, 90-87, despite the fact that Irving was on the floor for two minutes before missing the remainder of the game, and on Saturday, we learned the extent of Irving's injury.
The Celtics tweeted out that his run-in with Baynes led to a minor facial fracture, and his status for Sunday's game against Toronto.
It's been a torrid start to the 2017-18 season for the Celtics, as they've jumped out to an 11-2 record on the year, partly due to the influence that Irving has had on the team since coming over from Cleveland this past offseason. They've manage to build a comfortable lead atop the Atlantic Division, and while it doesn't sound like Irving will need to miss an extended period of time, they can afford to have him sit out for a few games as he recovers from this.
Additionally, the Celtics got an update on the status of Al Horford, who has missed the last two games due to a concussion. The veteran big man is listed as probable.
Horford suffered a concussion during Boston's 110-107 win over Atlanta.

UPDATE: Shams Carania of The Vertical reports that Irving will likely sit out on Sunday and then wear a mask for the next few weeks.
This isn't the first time Irving had to wear a mask, as he needed one in 2013 after suffering a broken nose.