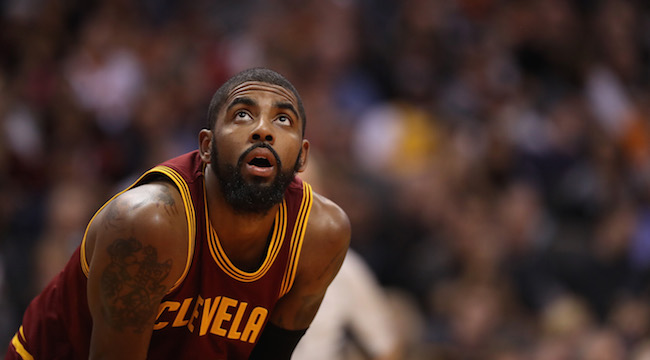 You can make a really good case that Kyrie Irving is the best player in the NBA when it comes to finishing absurd layups and breaking dudes down off the dribble. In fact, earlier today, Rockets guard Eric Gordon said that Irving has the best handles of all time. While no one else was able to go that far, Steph Curry and Paul Millsap gave Irving love for being ridiculous off the bounce.
Irving thought it would be fun to back up all of that talk on Monday night. Cleveland played host to Miami, and during the first quarter, the Cavs' All Star guard went right by Rodney McGruder en route to the lane. From there, Irving got into the lane and used the rim to his advantage to keep McGruder from blocking his shot.

Irving's ability off the bounce is well-documented at this point, but his ability to use the rim to his advantage and make layups from all sorts of difficult angles is something that doesn't get enough credit. He just has an inherent understanding of what he needs to do to get the ball into the hoop no matter where he is, and even better, he is so good at using the rim to keep taller defenders away from impacting his shot.
When it comes to handles, few (if any) basketball players are better than Irving. This goes for the ability to finish at the rim, too.