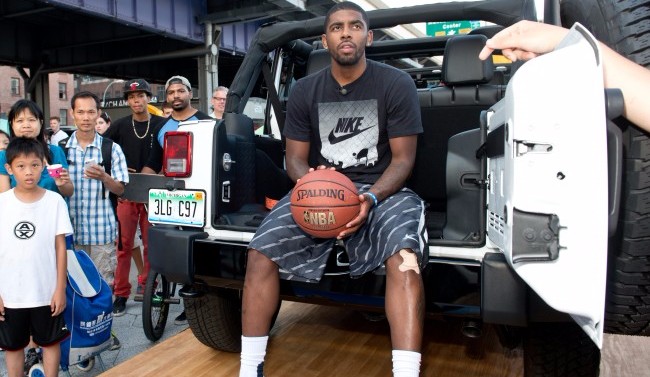 Politics and sports are intersecting in a way they haven't since 1967, which saw athletes like Muhammad Ali, Kareem Abdul-Jabaar, Jim Brown, and Bill Russell meeting together for a summit on the Vietnam War. Players have more power, more freedom to say what they want to say, and are more socially conscious than ever.
LeBron James has been a vocal opponent of Donald Trump's ban on Muslims, Carmelo Anthony has made his thoughts on activism known, and even coaches like Gregg Popovich and Steve Kerr have not only encouraged their teams to speak out, they've done so themselves.
During All-Star Weekend, Kyrie Irving joined the fold.
At a brief media availability on Friday evening, Irving was asked about the controversial and discriminatory bathroom bill, HB2, in North Carolina that forces individuals to use bathrooms based on birth certificate gender rather than the gender with which they identify, and also banned cities from non-discriminative laws to protect the LGBT community.
Charlotte, which was set to host the All-Star Game this year until the league moved the game after the bill wasn't repealed, initially passed an ordinance offering protections for LGBT individuals – and inside the motion was allowing people the freedom to use whichever bathroom they choose. That was what the North Carolina lawmakers focused on, and HB2 moved forward quickly behind former governor Pat McCrory.
Irving chose his words carefully and seemed as though he wasn't going to answer the question at all or deflect. Instead he pushed forward and gave a thoughtful and measured response.
"We all believe in equal rights as humans," Irving said. "I think we should all stand for that. No matter what preference or particular gender or any way anyone wants to live their life, I think it should be an open installment for anything you want to be in this world. Once that wasn't echoed [by North Carolina], and it was echoed by the league, we had to move places."
The league officially moved the All-Star game in July of 2016 after threatening to do so if the legislation wasn't repealed. The state also lost a number of NCAA events, concerts, and businesses. Charlotte – which was to hold the All-Star Game and the ACC Championship in particular – was hit especially hard.
Irving is more than familiar with the state of North Carolina. He played his lone college season at Duke, just 30 minutes away from the state capitol. While McCrory was ousted in favor of new governor Roy Cooper in last November's election, the bill still has not been repealed, even after a compromise was offered up and a special session was called in December before Cooper took office.
Recently the NCAA has threatened to pull even more sporting events out of the state if the bill isn't reversed soon. And Charlotte, which has been offered the chance to get an All-Star game back in the coming years, certainly won't get one as long as the bill is on the books – and Adam Silver is the commissioner.