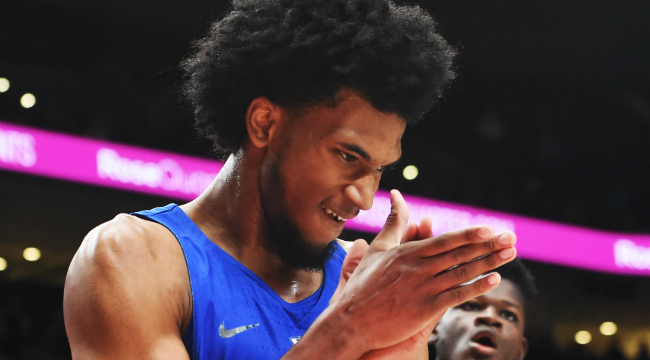 Duke freshman power forward Marvin Bagley III is taking the college basketball world by storm. Bagley was Duke's top recruit this summer, so while his fantastic play isn't necessarily a surprise, you can never predict how high school basketball success will translate to the college game. That's especially true when you're talking about the fame and pressure that comes with Duke basketball. But clearly, that wasn't a problem for Bagley.
The No.1 ranked Duke Blue Devils are 9-0 on the young season, and Bagley is giving them a staggering 22.3 points, 11.1 rebounds, 1.6 assists, and 0.8 blocks on .598 shooting from the field in 31.2 minutes per game. Of course, we're only a handful of weeks into the 2017-18 college basketball season. Most of the top teams haven't played other top teams and these umbers will most certainly change, but at this juncture Duke looks like the team to beat in college.
In fairness to the rest of the Blue Devils, it's not all Bagley. Grayson Allen is back, and contributions from Wendell Carter Jr., Trevon Duval, and Gary Trent Jr. shouldn't go unnoticed. Duke has depth, and that's what makes them scary in March.

But when ESPN asked Former Duke stars Kyrie Irving and Jayson Tatum what they think about Bagley's immediate success, they showered Duke's new freshman phenom with praise.
"He's an incredible talent," Irving told ESPN. "He's dominating college basketball right now. I want him to continue to do that, but, what makes it incredible is how he functions with that Duke system. They do it with playing unselfish basketball, and collectively they are just resilient."
"He looks like a superstar," Irving added, "Which he ultimately is in college basketball, and I can't wait to see him in the league."
Jayson Tatum echoed Irving's comments and general praise.
"Just how dominant and consistent he's been in the first 9 or 10 games. He's obviously a matchup problem, how well he rebounds the ball, 15+rebounds a game, it's just crazy," he said. "And how efficient he is."
While cynics will claim that praising Bagley was Irving and Tatum's only option here being that they are still very much part of the Duke basketball community, you can't say Bagley isn't worthy of the praise. He's doing it all for Duke right now, and if you're Bagley, it has to feel pretty cool knowing that you have two players from one of the NBA's best teams singing your praises.