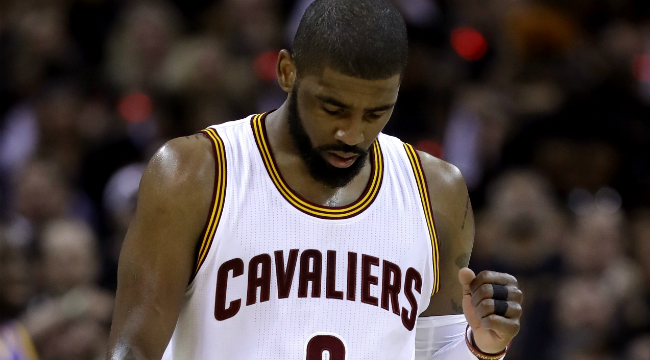 It's clear that Kyrie Irving's request for a trade out of Cleveland didn't come without some significant thought. Now we're learning just who Irving spoke to in his deliberations about leaving LeBron James behind.
According to TMZ, Irving talked to the same person Justin Bieber reportedly talked to before canceling his Purpose tour—pastor Carl Lentz of Hillsong Church.

Church sources tell us Kyrie, who's been an active member for a long time, met with Lentz earlier this month about his desires to step out of LeBron James' shadow. We're told Lentz didn't tell Kyrie to "leave Cleveland" — instead he listened to Kyrie's concerns, and encouraged him to make the decision he felt was best.

There's a reason it sounds so similar to Justin's Purpose tour shocker — Bieber, Lentz and Irving all hung out together in L.A. just over a week ago. You could say they were on Kyrie's turf … playing pop-a-shot at Dave & Buster's.
TMZ has a photo of the three plying pop-a-shot, so when this story inevitably kills me please use that image on my gravestone.
Bieber has since denied that a spiritual awakening caused him to cancel his tour dates. But Bieber's appearance here is curious because he's a noted Cavaliers stan, at least when the apparel suits him. That's an oversimplification, though, and it's not fair to levy any claims that Bieber or his pastor are improperly advising Irving.
It's just strange how these flat worlds intersect and sometimes hang out at Dave & Buster's, I guess.