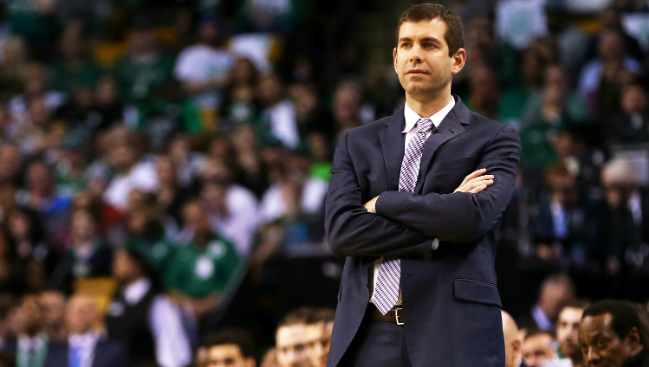 The fine folks who make up Weird Celtics Twitter won't get the opportunity to watch Kyrie Irving play basketball on Monday night. Irving's left knee is bothering him, and in an attempt to keep him fresh as the season enters the stretch run, Brad Stevens made the decision to give his All-Star point guard a chance to rest as the team makes its way to Chicago to take on the Bulls.
However, Stevens wanted to have a little fun while announcing that Irving would spend Monday resting up his bum wheel. During Boston's 123-120 loss to Houston on Saturday night, Irving tried to intentionally miss a free throw but made it instead. Stevens decided that, instead of playing it straight, he'd joke around and say that would keep him out.
Stevens did add another tidbit that is a little more unconventional. Usually when teams have an injury to their starter, their backup gets the call to step in and lead the team. Instead, Stevens will give third-string point guard Shane Larkin his first start of the year, with the hope that doing this will keep Terry Rozier and the Celtics' second unit on point.

While he can be an unconventional head coach, this is still a pretty unique decision from Stevens. It'd be interesting to see if he'd do this over a longer sample size than one game, but fortunately Irving's injury doesn't seem to be bad enough that we'll have to find out.