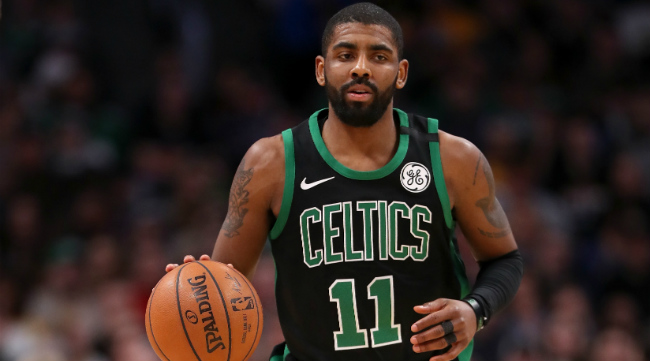 The Boston Celtics have been ravaged by injuries of late, with a number of their top players being sidelined for the stretch run with various ailments.
Among those is All-Star point guard Kyrie Irving, who had knee surgery recently to alleviate pain in his left knee that has bothered him for some time. The initial timetable for Irving's return to the court was set at 3-6 weeks, which figured to put him on pace for a return should the Celtics get past the first round of the playoffs, or at worst for the conference finals.
Unfortunately, that will no longer be the case according to ESPN's Adrian Wojnarowski, who reported on Thursday that Irving's season was done and that he would miss the entire postseason, no matter how deep a run Boston makes.

Wojnarowski reports Irving and the Celtics are "evaluating further possible medical options" to treat his knee, which indicates even after surgery there are still some issues. Hopefully they can figure that out to alleviate his pain long-term, but it's certainly concerning news.
The Celtics confirmed the news in the early afternoon on Thursday, announcing Irving would have a second knee surgery, this time to remove two screws that were put in his knee in 2015 to repair a fractured patella because of a bacterial infection at the site of those screws.
This Saturday, Celtics guard Kyrie Irving will undergo a procedure to remove two screws implanted in his left patella after the patellar fracture he suffered during the NBA Finals in 2015. Following a mid-March procedure to remove a tension wire that had been implanted at the same time as the screws, pathology indicated the presence of a bacterial infection at the site of the hardware. To ensure that no infection remains in the knee, the screws will be removed. The fracture in Irving's patella has completely healed, and his knee remains structurally sound. He is expected to make a full recovery in 4-5 months.

It's a stunning announcement and takes significant wind out of the Celtics sails as they head into the playoffs. Boston will be the No. 2 seed in the East, but with Irving and Gordon Hayward both out for the playoffs and Marcus Smart also set to miss at least the beginning of the postseason, prospects of a deep run are very slim.
Terry Rozier has played extremely well in Irving's stead down the stretch, but point guard depth for the Celtics is extremely thin and those behind Irving have had health issues themselves as Rozier has been battling an ankle issue of late and Shane Larkin has missed time with an illness. Boston has played admirably well lately considering their circumstances, but that effort and scrappy play figures to only take them so far in the playoffs. It's possible they prove everyone wrong, but the cards seem stacked against them this season.