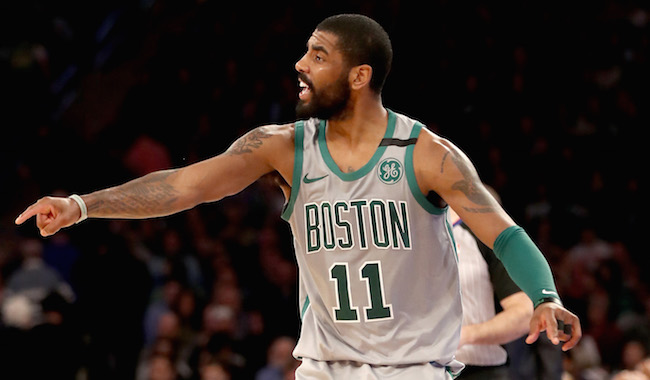 Kyrie Irving's first season with the Boston Celtics has officially ended. The All-Star point guard was announced out for the next 4-5 months after it was determined he will undergo a second surgery on his left knee.
The surgery will be to remove two screws in his knee that were put in to repair a patella fracture in 2015, but have developed a bacterial infection at the insertion sites that was discovered in Irving's latest surgery. The 4-5 month timetable, if that proves to be correct, would put him back on the court in early September, which should make him a full go to start the 2018-19 season.
On Thursday afternoon, Irving posted a reaction to the news he would have another surgery on Saturday on his Instagram page, with a lengthy caption vowing to come back stronger than ever and prove any naysayers that think he won't return as the same player "completely f*cking wrong."

The hardest thing to do sometimes is accept the uncontrollable things life throws at you. You try consistently to learn, grow, and prepare everyday to equip your mind, body, and spirit with tools to deal with some of those things, but I feel when those moments arise they all give you a sense of unfulfillment, simply because it puts some of your professional journey and goals on a brief hold. It's simply a test of your perseverance and Will, to be present, even in the wake of what's going on. In this case, finding out I have an infection in my knee is definitely a moment that I now accept and move past without holding on to the all the what ifs, proving the nay-Sayers completely f***ing wrong, and accomplishing the goals I've set out for the team and myself. This season was only a snapshot of what's to come from me. Trust Me. "The journey back to the top of Mt. Everest continues." #StandingRockSiouxTribe

Let's go Celtics!! Celtics fans, I look forward to hearing how loud it gets in the TD Garden during the playoffs and experiencing how intense the environment gets. Thank you all!
This is the right mindset for Irving to take and hopefully he is able to get back healthy for next season. He also voiced his support for his team as they move forward into the daunting task of the postseason without its top stars. While this season appears to be something of a lost year in Boston due to the various injury woes, if Irving and Gordon Hayward can return to form, they have been able to see significant growth from their young players and figure to be a force to be reckoned with in the East next year.