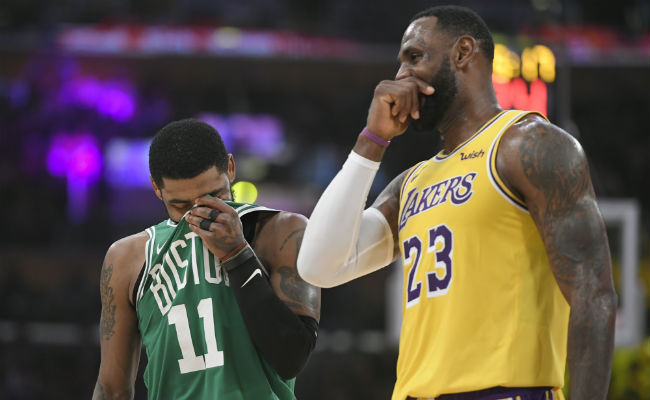 The Los Angeles Lakers really do want to get LeBron James and Kyrie Irving back together, and despite the general consensus that he's headed to Brooklyn the team is planning to be a suitor when the NBA's free agency period begins.
The biggest news for the Lakers on Thursday was, at first, that LeBron James would give his number to Anthony Davis. But it was also revealed that the team had expanded the Davis trade to move out some players and get cap room to acquire another major free agent next week. And it seems the Lakers are looking at a big guard target to make use of that cap space. Even, yes, Kyrie Irving.
According to Marc Stein of the New York Times, the Lakers are still very much interested in Irving and consider him a "target" in free agency.
https://twitter.com/TheSteinLine/status/1144447393947181056
Stein's phrasing is interesting here in that he also mentions Kawhi Leonard, who the Lakers are also very much interested in adding to the roster along with LeBron James and Anthony Davis. Leonard and Irving both being targets is significant for a team that struggled to open up the space for that kind of contract, jostling for position in a crowded free agent class that inevitably will leave one major team out of the picture when it comes to the biggest players on the market.
Whether the Lakers could convince Leonard to leave Toronto or Kyrie Irving to play with LeBron again isn't clear, but that the team is considering all options when it comes to free agency. They'll put in the work to get a top flight talent at guard and, at this point, even Klay Thompson seems like an option as well.