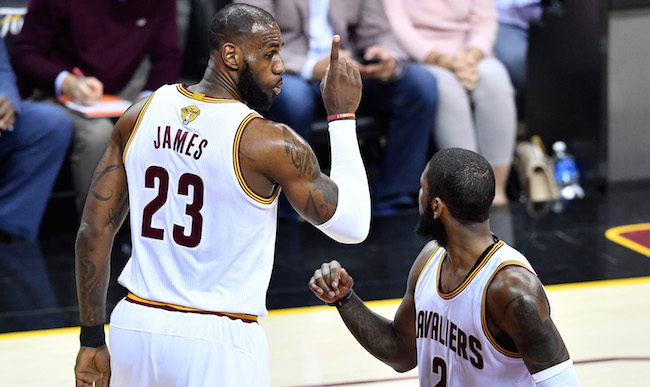 The latest news out of the NBA's greatest soap opera, known better as the Cleveland Cavaliers, is fans have begun their push to show LeBron James they love him with "Stay Home" shirts and hats. James' impending free agency in the summer of 2018 has fans and the organization concerned that the King could leave once again for a multitude of reasons including an alleged rift with owner Dan Gilbert.
While James' status as a future free agent has the Cavs faithful a bit spooked, the more pressing matter for the organization is the trade request made by Kyrie Irving and trying to ensure they recoup value for their star point guard. There have been numerous reports about what led to Irving's trade request, from him wanting to be the star of his own team and out from under LeBron's shadow to him simply trying to jump ship before James could send the Cavs sinking into the abyss of mediocrity by leaving them in free agency.
We can now add a new nugget of reported information to our list of reasons Irving asked to be dealt this summer, as Fox Sports' Chris Broussard recently offered up a new report saying potential miscommunication about a trade discussion ahead of the draft was the "last straw" for Irving.

The final straw as to why he wanted out of Cleveland, or wants out of Cleveland, I'm told the Cavaliers had a deal done heading into the draft. This was reported by Cleveland Scene magazine, no one really picked it up, but I've talked to a few people who said it was true. The deal was, Cleveland would send Kyrie to Phoenix, which does want Kyrie. Robert Sarver wants Kyrie Irving. They would send him to Phoenix. Phoenix would send Eric Bledsoe and the No. 4 pick back to the Cavaliers.

The Cavaliers would send the No. 4 pick to Indiana for Paul George. So you're getting Eric Bledsoe and Paul George for Kyrie Irving. Now, that was going to happen. Dan Gilbert goes to LeBron and says, 'Look, we've got this deal on the table. I'll do it if you commit long-term to stay in Cleveland."

LeBron won't commit. You can read into that if you want that he would leave or he wants to keep his options open. He would not commit so Dan Gilbert would not do the deal.

Now, Kyrie Irving finds out about the deal. Whether it was from David Griffin telling him after he left or however he found out. But he found out about the deal. And he assumed, he rightly assumed, that there's no way the Cavaliers are doing this unless LeBron gives consent. That's why he got mad with LeBron. He thought LeBron was in on it.

LeBron's take was more, "Look, I'm not trying to trade Kyrie Irving. He's great. But that's a heck of a deal—Eric Bledsoe and Paul George. So if you do it, hey, that's a great deal." But Kyrie took it as LeBron wanted him out of there. A few days or a week later that's when Kyrie made his trade request.

It's a fascinating story that, if true, is an incredibly juicy tidbit into what led to Irving's trade request and explains the strangely icy relationship between Kyrie and LeBron. It's also extremely unfortunate for Cleveland that a trade discussion that didn't even materialize and wasn't even completely co-signed by James — in that, it wasn't enough to make him say, "Yes, I'll stay for that" — may have led to the destruction of their core group.
Now that Josh Jackson is a member of the Suns and it's not just the fourth overall pick, they are reportedly no longer willing to agree to the same deal, just without Paul George and the Pacers involved, and the Cavs are stuck trying to piece together a deal for Irving. If Gilbert could have that one over again, hindsight being what it is, you could bet he would pull the trigger despite James' unwillingness to commit. Instead, he's stuck with a disgruntled point guard that publicly wants out and very few legitimate options for getting value in return.
(h/t SLAM)