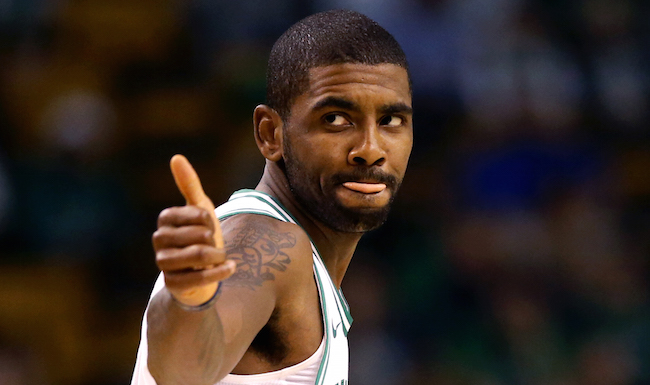 LeBron James was not a happy camper on Thursday night. The Toronto Raptors, which were without Kyle Lowry and Serge Ibaka, shredded the Cleveland Cavaliers' defense during the first half of their matchup in the north. It led to James absolutely tearing into his teammates and coaches, ostensibly because he was not a fan of the team's defensive effort.
If you like it when teams are engaged on defense, you might have enjoyed this video. At the very least, we know that James' animated response to the team's effort earned an Instagram like from a famous former Cavalier, someone who shared a locker room with James as recently as last season.
A video of James made it to the Instagram account ballgod. Apparently, Kyrie Irving follows that and was scrolling through his feed on Thursday night, because he liked the video of James going off.

This can be taken one of two ways. Either Irving enjoyed watching James call everyone out for their lackluster defensive effort in a game against a team that Cleveland may face in the postseason, or he was having fun watching his, uh, "bitter rival" and the best player on arguably Boston's biggest competition in the Eastern Conference get really mad at everyone.
Have you checked out the DIME podcast? Subscribe on iTunes or Google.
[protected-iframe id="00af9ca45de21b1c2881c59da0b836c2-60970621-10222937″ info="https://omny.fm/shows/the-dime-podcast/episode-15-chris-herring/embed?style=artwork" width="100%" height="180″ frameborder="0″]