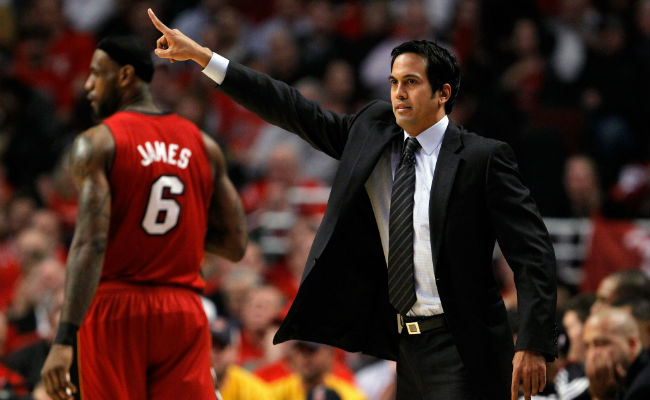 This might surprise you, but a columnist covering LeBron James' former team isn't a huge fan of the superstar now that he's playing elsewhere. Miami Sun-Sentinel columnist Dave Hyde thinks Kyrie Irving's sudden trade request out of Cleveland has everything to do with the way that James dominates the teams he's on.
Here's a story Hyde reported that supposedly sparked LeBron's eventual exit from Miami.

Here's a story: LeBron once wanted to stay over after an away game with the Heat and meet the team the next day in the next city. Heat president Pat Riley said no. LeBron got upset. Riley said that's no way to lead a team. LeBron was still upset about that and other similar items on his way out the door to Cleveland.
I'm not sure if one denied sleepover would be enough to blow up the Big Three on its own, but point taken. It's not the only example Hyde gives.
Another story: LeBron insisted reserve James Jones play more with the Heat. Everyone loves Jones. But he wasn't a championship-level player, especially on defense. In LeBron's final Heat season, Jones played late in a game and hit some shots. "Great coaching, Spo,'' James kept yelling from the bench.

Everyone inside the team knew it wasn't a compliment of Heat coach Erik Spoelstra. It was a mocking of him. It was the best player belittling the coach by saying this should be done every night.
Jones, of course, was a beloved player for the Cavaliers as well, moving on to Cleveland with James when he returned to Lake Erie in 2014.
These points don't necessarily indicate much of anything about Irving's situation in Cleveland, but they are interesting. And with Stephen A. Smith threatening to "go nuclear" on LeBron and tell the "real" story of what happened before he left Cleveland the first time, it could be an interesting summer for LeBron drama. Well, an even more interesting summer than we've already had.