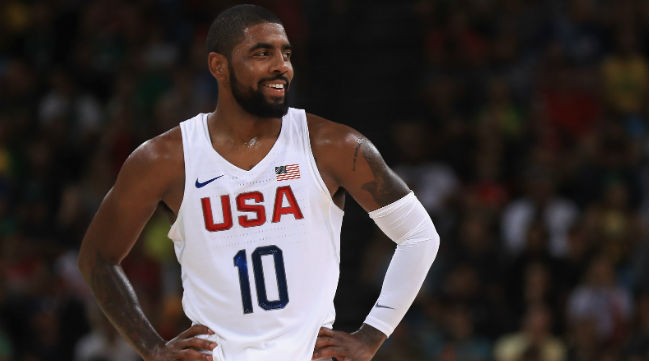 Australia's national basketball team boasts a number of solid NBA players. Guys like Andrew Bogut, Matthew Dellavedova, and Patty Mills all start for Australia, and while none of them are All-NBA guys, they're all good basketball players.
It's not a stretch to say that Kyrie Irving is a better NBA player than all of those dudes. Like Bogut, Dellavedova, and Mills, Irving is a native of Australia, and if he wanted, he could have played on Australia's national team. Sure, he only lived there until he was 2, but thanks to his dad's professional basketball career down under, Irving had to choose between playing for the USA and Australia internationally.
And as we learned thanks to this story from Yahoo! Sports, Irving struggled with the decision. That was until Mike Krzyzewski stepped in and told him that he was going to play for the United States.
"It was very serious," Irving said of how close he came to playing for Australia, which would've later made him ineligible to play for the nation where he grew up. "It was a legit thing, until Coach K intervened. He strong-armed me. As a young fella, he did tell me I had a chance to be a part of something bigger than myself. He said, 'You could be the starting point guard on the U.S. Olympic team.' I never thought it would happen as soon as it has, but I had aspirations and dreams of being a guard on an Olympic team."

Krzyzewski wanted Irving to see for himself the potential he had and pushed one of the more unlikely one-and-done talents to pass through Duke's program in that direction. "When I saw Kyrie as a youngster, I told him, 'You're going to be a great guard. You could be the guard of your era,' " Krzyzewski said. "I've always had that vision, and I think he has that vision. But, more than having that vision, he has the ability. And, it's not just physical ability. It's mental. He's really smart, and he gets it. He's really mature about everything. The great players have that."
Irving, of course, played for Coach K at Duke for one year before jumping to the pros. It seems like Irving did the right thing – he started at point guard for the United States at the 2014 FIBA Basketball World Cup, where the Americans won a gold medal and Irving was named the tournament's MVP after starting every game. He's also the starting point guard for the USA at the Rio Olympics, so it seems like the decision to wear the red, white, and blue worked out for him.
(via Yahoo! Sports)