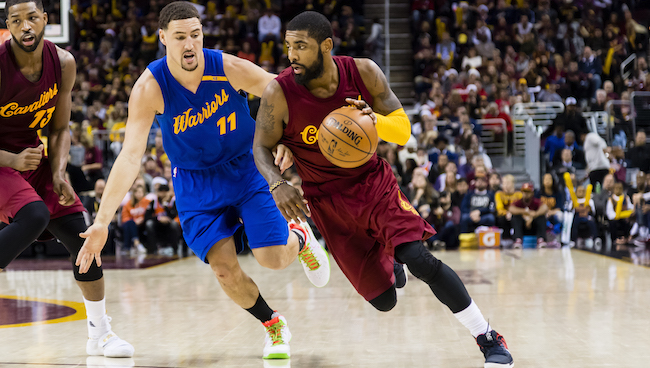 The point guard position has become the deepest in the NBA. This has been the case for a few years, but in 2017 it's been particularly noticeable with some stars taking on point guard responsibilities full time (like James Harden) and others taking big steps forward (like John Wall and Isaiah Thomas).
The debate about who the best point guard in the NBA is really depends on what you value the most. If it's pure shooting, you'll say Steph Curry. If you're a fan of raw production, then Russell Westbrook. If you want production combined with efficiency, James Harden is your guy. If vision and passing is your main criteria, you're probably going to go with Chris Paul. If you prefer clutch scoring, likely Isaiah Thomas. And if you're looking for the guy with the tightest handles, it's Kyrie Irving.
There are a lot of very good ball-handlers in the league, but with all respect to the dribbling skills of Curry, Harden, John Wall, Chris Paul and others, no one is quite on the level of Irving. His handles will spin other elite point guards into the ground and he has a variety to his dribbling that no one else in the league possesses. While there amy be debate about the best point guard, there are few that will argue against Irving as the best ball-handler, including his peers.
In a story about how Irving developed and continues to work on his dribbling skills, Marc Spears of The Undefeated spoke with a number of star NBA players who gushed about Irving's ability off the bounce.

Steph Curry noted Irving's ambidextrous nature to his dribble, and ability to use his full arsenal of moves going either direction.
"He is able to use both hands and he's shifty and crafty," Curry said. "He changes speeds to keep people off-balance. Perhaps the best way to put it into words, he has an uncanny kind of ability to go one way, stop on a dime, right to left, left to right, whichever, and still be on balance and get by you. It's unpredictable."
Paul Millsap had no problems calling Irving the league's best ball-handler, noting that Irving is able to process information and positioning so quickly and take advantage of it with his creativity.
"Hands down, Kyrie has the best ball-handling skills that we have in our league," Millsap said. "The way he reads defenses, the way he reads your feet, it's unbelievable … His biggest asset is his creativity. He is one of the most creative point guards we have."
Eric Gordon went a step further and said Irving is the best ball-handler the NBA has ever seen.
"Kyrie has the best handle of all time," said Gordon. "Very creative and uses different motions, as well."
Whatever your feelings on the debate around the best point guard in the NBA (and there are plenty of players that have a case), Irving's handles are unimpeachable.