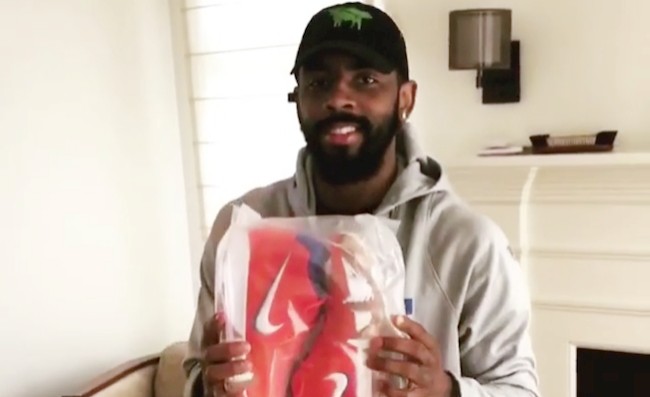 Kyrie Irving won't be in uniform for the Boston Celtics again until next season, but that doesn't mean he isn't having an active summer as he rehabs from knee surgery.
The All-Star point guard is busy working his way back from surgery and cheering on his teammates as they hold a 1-0 lead in their second round series with the Sixers, but he's also getting ready for promotional work for his upcoming Uncle Drew movie as he makes his big screen debut. On Thursday, Irving and Uncle Drew were unveiled as the new Wheaties box cover athletes.

To celebrate that occasion, Nike, never one to miss an opportunity, sent Irving a very special pair of "Wheaties" Kyrie 4s that he unboxed on his Instagram.
There's no info right now as to whether these will hit the actual market, just be sent out to influencers and such like prior Uncle Drew releases, or if they'll be a special release like the Krispy Kreme Kyrie 2s. If they do hit the market, they'll be a hot item whenever they drop as this is arguably the best colorway of the Kyrie 4 yet. Hopefully they'll get a wide release, with or without the cool box.