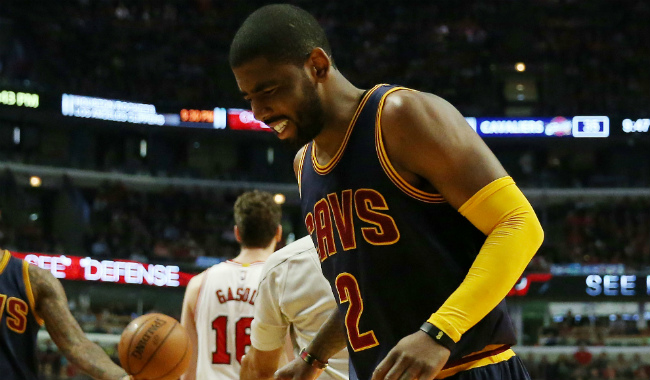 Kyrie Irving spent the Cavaliers' Eastern Conference Semifinal series with the Bulls getting progressively banged up, to the point where he was unable to finish Cleveland's closing Game 6 and was uncertain for the start of the Conference Finals. Matthew Dellavedova looked like a hero for approximating Kyrie's standard level of production, but the Cavs will need their second star to play well to make it five straight NBA Finals appearances for LeBron James. They got some good news on that front after Irving practiced with the team on Monday, via ESPN's Dave McMenamin:
The Cavs don't start their series against the Atlanta Hawks until Wednesday, so even though no official word has come out, Kyrie's confidence that he'll be on the floor makes it close to a sure thing that he'll play. That's good because his counterpart on Atlanta is Jeff Teague, who came on strong at the end of the Hawks' series with the Washington Wizards, and who has previously humiliated Dellavedova. Kyrie's no defensive stopper, but his presence will at least force Teague to expend more energy on defense. If DeMarre Carroll can contain LeBron better than Jimmy Butler could near the end of Cavs-Bulls, the onus will fall on Kyrie to make something happen against Teague, who is solid at the Hawks' team defensive concepts but gives up size to Irving. Plus, no one can stay in front of Kyrie when he's on. It's just impossible.
Of course, there's another element to the Kyrie/Teague matchup that hasn't been discussed much yet, but is sure to gain traction as the series gets closer:
College buddy dads! The significance of this is debatable at best, since Irving and Teague grew up nowhere near each other and entered the draft two years apart, meaning they're not exactly childhood rivals or teammates. Still, it should be good for a human interest segment or two in a pre-game package. Of course, now that Kyrie's health is improving, the on-court stories will prove far more interesting.
(H/T Dave McMenamin and Jeff Goodman)