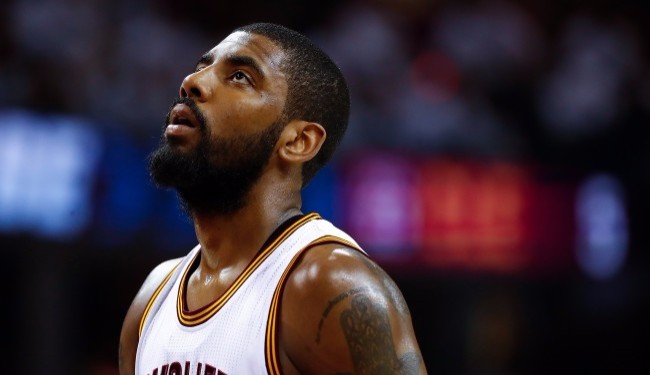 The Kyrie Irving trade saga has come to an end and has stunned the NBA world. According to Jeff Goodman of ESPN and Shams Charania of The Vertical, the Cleveland Cavaliers have traded Irving to the Boston Celtics. In exchange, Cleveland will receive a package that includes draft picks and players. The most notable name that the Cavaliers will receive in this deal is Isaiah Thomas, but the biggest piece moving forward could be the unprotected Brooklyn 2018 pick.
For Cleveland, one of the most insane stories of their offseason has come to an end. Ever since Irving requested a trade last month, stories have indicated that his relationship with some in the franchise — namely LeBron James — had become acrimonious. It also means that the team has gotten back a valuable asset for the future in Brooklyn's unprotected pick next year, along with a starting point guard to take over for Irving in Thomas and a solid 3-and-D wing in Crowder.

For Boston, this means that they finally used their much-heralded war chest of assets to go and get a superstar. Sure, this deal cost them Thomas, but they now have a formidable trio of Irving, Gordon Hayward, and Al Horford. Plus they still have the pieces to do more if they want, as they still possess a number of young players and picks if they want to add to this core by keeping No. 3 overall pick Jayson Tatum from being included. Add in the fact that Irving is 25 and under contract for two more years and the team's future looks really, really bright.
But for now, we are sitting here and watching as the two best teams in the east did a move that will have massive ramifications on the conference. It was already going to be a fascinating game to watch, but Irving in green will make the Cavaliers-Celtics game in Cleveland on the first night of the season even more entertaining.

UPDATE: It's official, Kyrie Irving is a member of the Boston Celtics. The team announced the news in a tweet.
The Celtics also confirmed the pieces that will head to Cleveland, while general manager Danny Ainge used the statement to say goodbye to Thomas and Crowder.
"Isaiah embodied what it meant to be a Celtic. He captured fans' hearts not only with his spirit, but his personality," Ainge said in the statement. "Jae's toughness was contagious for our team. He improved his skills each year, but it's his energy and fight that will be remembered. We wish them and their families the very best."