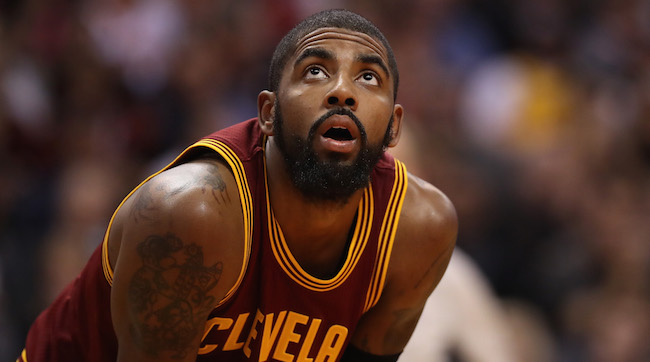 Where is Kyrie Irving going to play next season? This question has been on the minds of NBA fans after an explosive report on Friday indicated that the Cavaliers' star guard wants to leave Cleveland, citing Irving's desire to go somewhere and get out from under the shadow of LeBron James.
A number of teams have been linked to Irving, all for different reasons. The Knicks and the Cavs are reportedly in the midst of discussions, while Jimmy Butler and Karl-Anthony Towns are trying to do everything they can to get Irving to Minnesota.

If you ask Diamond Sportsbook, those are two teams that are worth watching in the Irving sweepstakes. Odds came out about where Irving would end up, with the field (+200) and the Knicks (+350) having the best odds at landing the 25-year-old guard.
From there, the best odds belong to the San Antonio Spurs (+400), Miami Heat (+550), and the Timberwolves (+700). The thing with the worst odds of happening? That'd be "Not Traded Before 2017-18 Regular Season Starts," which Diamond Sportsbook put at +1000.
It does seem like it'd be a stunner if Irving ends up staying with Cleveland at this point, so those odds make sense. Beyond that, it does seem a little surprising that Minnesota's odds are so high considering Irving seems like he really wants to play with Butler, even if there are some questions about how a trade for Irving would work — the Wolves have Jeff Teague slotted at point guard and can't trade him for a few months, while Andrew Wiggins is one of the franchise's cornerstones.
Irving has also reportedly mentioned New York, Miami, and San Antonio as places he'd like to go, so it makes sense that those teams are listed. But still, since the Cavs don't have much of an incentive to make Irving happy, the field will have the leg up until one team separates itself from trade talks.