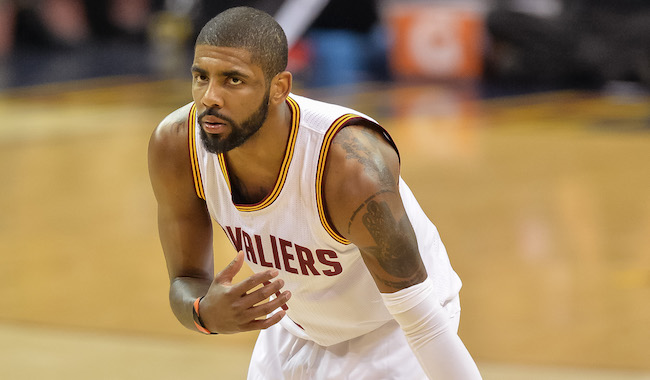 Kyrie Irving is reportedly on the trade market and, while the Cleveland Cavaliers are under no firm obligation to deal the All-Star point guard, that won't stop anyone from speculating on his next destination. To that end, a lot of bandwidth has been spent on formulating potential suitors for Irving's services and, to be fair, Irving reportedly provided his current team with a four-squad list of preferred landing spots.
In the same breath, it can be difficult to find the perfect fit for Irving in trade, simply because Cleveland's dynamics with attempting to please LeBron James make things extremely treacherous.
On Monday, Chris Mannix of The Vertical did his best to outline the stakes at hand and quoted a Western Conference executive in essentially saying Cleveland could (and will) command a king's ransom for Irving.

"The price is going to be super high. There is a lot riding on this for Cleveland. They might have to wait until Dec. 15 [when contracts of players signed this summer become tradable] to do any deal. It could be an awkward few months."
It comes as no surprise that the Cavs would aim quite high in return for Irving given his age, skill set and a contract that has him locked up at an underpriced cost through the end of the 2018-2019 season.
With that said, the LeBron dynamic is very real and, if the situation sours to the point that Cleveland feels that it has to speed things up, that could hamstring the new front office.
In fact, Mannix discussed the situation with former Nets GM Billy King, who had this to say.

"It's difficult, in the sense that since it's public, teams know the Cavs have to trade him. It's going to be hard to bring [Irving] back into the locker room and say, 'Forget about it, let's play.' On the other hand, they can get teams into a bidding war. If I'm Cleveland, I'm looking for two to three starting-level players to fill out the roster and make the bench stronger."

"It's got to be a team that he thinks he can win with. Because you have to look at what you are giving up. Making a deal like that, you have to really feel that you can re-sign him."
The final portion of King's quote is paramount in that teams that have a big-time desire to sell the store in pursuit of Irving wouldn't be quite as willing to do so, especially midseason, without confidence that a long-term agreement could be reached. At 25, Irving is a tremendous player but, to this point, he hasn't quite proven that he can carry a title contender (or even a high-end playoff team) as the No. 1 option and that is the big question that any suitor will be evaluating in preparation for a mega-offer.
The Kyrie Irving saga remains unendingly interesting as the summer rolls along but, with no real incentive to hurry just yet, a resolution might not arrive for some time.