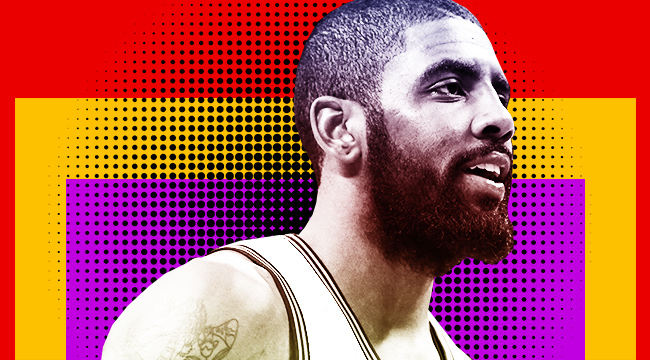 At this point, it seems like more than half of the NBA has been linked to a potential deal for Kyrie Irving. That's not a huge surprise — Cleveland has been put in a position where it kind of has to trade its talented guard after he requested a trade last week. This has driven his value down a bit, and has led to some teams being hesitant to include certain assets in a deal for Irving.
But what if every team decided they wanted to get in on the Irving sweepstakes, making it so the trade market for Irving became more robust as teams were bidding against on another? We decided to imagine a scenario where all 29 teams get in on the Irving rumors and submit their best deals to the Cavs. Here are the rules:
These trades have to be somewhat realistic, even in this absurd hypothetical situation. The Pelicans wouldn't give up Anthony Davis for Irving, but maybe DeMarcus Cousins wouldn't be a stretch.
These trades have to be Trade Machine-friendly.
All deals with rookies are made with the assumption that rookies can be traded. (Rookies cannot be traded within one month of signing their first contract.)
This assumes every team wants to trade for Kyrie, even if it makes no sense, because this is the internet and things are not supposed to make sense.
Teams are ranked by how they answer this question: "If every one of these trades were on the table, which one would the Cavaliers say yes to the fastest?"
Let us rank teams.

29. Golden State Warriors – No.
Even in the crazy hypothetical world that is being created here, the Warriors would not offer anything for Irving. Onward.
28. Chicago Bulls – Dwyane Wade
Wade would be a solid addition to the Cavaliers' bench, but considering his contract and the fact that the Bulls may work to buy him out (clearing a potential pathway for him to join Cleveland as a free agent), trading for Irving him would be a terrible idea.
27. Memphis – Brandan Wright, Wade Baldwin, James Ennis, Troy Daniels, Jarell Martin
The good news is this would get Cleveland a few nice pieces. The bad news is they're not trading Irving for nice pieces.
26. Washington – Marcus Morris, Jason Smith, Kelly Oubre Jr.
This trade is fine? A solid player in Morris, a decent role player in Smith, an interesting young player in Oubre. It's nothing you'd write home about, but this would be an okay deal if, you know, Washington would think adding Irving to a backcourt of John Wall and Bradley Beal is a good idea. (It is not.)

25. Los Angeles Clippers – DeAndre Jordan and Patrick Beverly

The Clippers have a bunch of dudes who can't be traded until August 27 — they all came over in the Chris Paul trade. Assuming they could wait until then, a Patrick Beverley and DeAndre Jordan for Irving and, say, Channing Frye could be really, really interesting. There's nothing to suggest the Clippers would move Jordan, but hey, this is all a hypothetical. Regardless, we'll slot the Clippers low due to the uniqueness of their situation. This could easily be a legitimate trade partner (and the Clippers and Cavs have already talked) later.
24. Oklahoma City – Enes Kanter, Doug McDermott, Jerami Grant
This probably isn't enough, but if the Cavs could convince the Thunder to give up Adams instead of Kanter and Grant, now we're getting somewhere. They'd additionally get someone like Richard Jefferson back to make this work, but seeing as how it's hard to imagine Adams going anywhere, Kanter, McDermott, and Grant is probably the best the Cavs could do in a deal with Oklahoma City. And that's not enough.
23. Brooklyn – Jeremy Lin and Caris LeVert
Lin is a very solid point guard, while LeVert projects to be a good 3-and-D wing. They could do a lot better, but no one would be too disappointed with this haul, right? On that note…
22. Detroit – Reggie Jackson, Stanley Johnson
A similar deal to the one Brooklyn would offer, Jackson has been the target of trade talks before, while Johnson has never really put it together in the NBA. If you want to flip this with the previous deal, that would be fair.
21. Orlando – Nikola Vucevic, Mario Hezonja, Elfrid Payton
A scoring big man whose defense needs some work and a pair of young prospects — Hezonja and Payton both have a way to go, but in the best-case scenario, they could be a solid 1-2 punch in any backcourt. Would the Cavs be willing to take the time to develop them, though?
20. Toronto – Jonas Valanciunas, Norman Powell, Delon Wright
Take everything from the Orlando section, swap the names, and the same thing applies. The difference is Powell and Wright are better than Hezonja and Payton right now, and also there's no way the Raptors would ever do this trade with how their backcourt is currently constructed.

19. Charlotte – Michael Kidd-Gilchrist, Frank Kaminsky, Malik Monk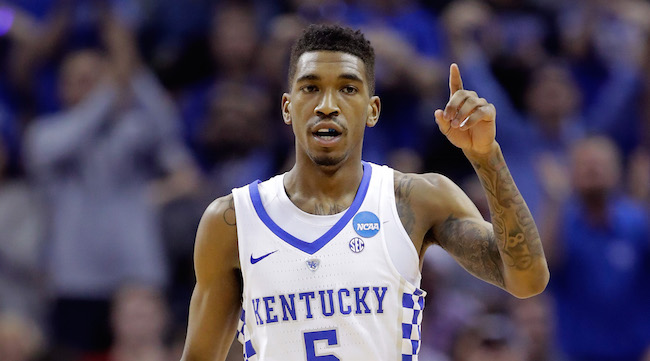 Everyone in this deal would help Cleveland in one way or another. Kidd-Gilchrist would check the other team's best offensive player instead of LeBron, Kaminsky would be an offensive-minded center off the bench, and Monk would be mentored by his spiritual successor, J.R. Smith. This one gets real interesting if you somehow could get Charlotte to swap Monk for Kemba Walker.
18. Boston – Picks, two of Marcus Smart/Jae Crowder/Terry Rozier/Jaylen Brown
The players in this deal would be solid, defensive-minded role players in the near future for the Cavs, which is why it's so low. But Boston has approximately 10,000 first-round draft picks that could sweeten this deal. There's also that whole Isaiah Thomas thing…
17. Utah – Derrick Favors, Dante Exum
If Exum can figure it all out, this deal skyrockets up the list. But for now, Cleveland would get a point guard with some upside and an efficient big man who can score and rebound.
16. Indiana – Thad Young, Myles Turner
Cleveland would get a veteran, effective wing in Young and a young and talented center in Turner who could end up being really good. Indiana would get a superstar that they no longer have with Paul George gone to pair with Victor Oladipo.
15. Houston – Eric Godron, Trevor Ariza
Surround LeBron and Kevin Love with shooting and good things will happen. This deal makes approximately zero sense for Houston, but for Cleveland, this is a nice return.

14. Sacramento – One of Buddy Hield/De'Aaron Fox, one of Willie Cauley-Stein/Skal Labissiere, Kosta Koufos
There's a ton of flexibility for Cleveland in a deal with the Kings, as they could acquire a potential backcourt cornerstone, a talented frontcourt player, and a veteran in Koufos to make the deal work.
13. Milwaukee – One of John Henson/Mirza Teletovic/Matthew Dellavedova, Jabari Parker
Parker is the centerpiece of this deal, as he'd be a perfect second scoring option next to LeBron. As for adding one of Henson, Teletovic, or Dellavedova, all of them would bring something different to the table, but they'd also make this deal possible money-wise.
12. Atlanta – Dennis Schröder, Taurean Price, Picks
This deal would set the Cavaliers up for the future nicely. Atlanta can include a bunch of picks, a nice point guard in Schröder, and a talented young forward in Prince. Would it help them in their pursuit of a ring this year? Probably not.
11. Dallas – Wesley Matthews, Dennis Smith Jr.
Matthews would give the Cavs a dynamite 3-and-D wing, while Smith has the potential to be fantastic. Dallas would probably never do this, so it's a bit low, but Cleveland would almost certainly love to do this deal.
10. Minnesota – Gorgui Dieng, Andrew Wiggins
Do the Cavs want to give Wiggins a max contract when he hits free agency next year? That's what a deal that nets the team Wiggins ultimately comes down to. Dieng would make this work money-wise and provide a shot in the arm in the team's frontcourt. There's also the "wait until December" option and pick up the recently-signed Jeff Teague, too.

9. Los Angeles Lakers – One of Lonzo Ball/Brandon Ingram, Jordan Clarkson
Getting either Ball or Ingram would be a haul, while Clarkson makes this deal work under the cap and would give Cleveland a scoring threat off the bench.
8. Miami – Goran Dragic, Justise Winslow
Dragic has his ups and downs, but when he is locked in, he's fantastic. Winslow's NBA career hasn't gone as planned, but as he told us, he's healthy and ready to make an impact in year three.
7. Portland – C.J. McCollum (NOTE: Cleveland would need to add a contract to make this work, probably Evan Turner or Al-Farouq Aminu)
This is the best 1-for-1 deal in terms of replacing Irving in the backcourt with another good player. McCollum is a native of northeast Ohio who can fill it up and handle the point. The Blazers would also get someone like Edy Tavares or Richard Jefferson back to make this deal work.
6. Denver – Wilson Chandler, one of Jamal Murray/Gary Harris
Chandler is a steady wing, while both Murray and Harris have the potential to be dynamic scorers on the perimeter. If possible, they could try to acquire someone like Emmanuel Mudiay or a pick, too, making this the best three-person haul the Cavaliers could get.
5. San Antonio – LaMarcus Aldridge, Dejounte Murray
Irving reportedly wants to go to San Antonio, and while it would take some convincing, a deal centered around Aldridge would be enticing. He'd give the Cavaliers a talented, offensive-minded big man who can be the yin to Tristan Thompson's yang, while Murray is a talented young player who can play either guard spot.

4. Philadelphia – Ben Simmons, T.J. McConnell
If Simmons can stay healthy, this would be No. 1. He's not a great shooter, but he's good at basically everything else. Watching him, LeBron, and Kevin Love pass would be otherworldly, and even if LeBron leaves next offseason, Simmons is a piece the team can build around. And McConnell gives the Cavs a young point guard they can use in lieu of Jose freaking Calderon.
3. New York – Carmelo Anthony (And More In A Three-Team Deal)
Who wants to see Olympic Melo? Playing alongside LeBron, Anthony would be in a position to pick his spots offensively, a luxury he hasn't had with the Knicks. If he could turn into the efficient, dynamic scorer he's been the other times he has played next to players the caliber of LeBron, he'd give the Cavaliers a perfect compliment to their leader. But taking on Melo's contract and helping the Knicks move on and giving them a superstar young player to build around isn't enough. We need a third team.
2. New Orleans – DeMarcus Cousins
Getting someone on a one-year deal would be a risk, because if he and LeBron leave at the same time the Cavs would be in a rough spot, but the best trio the Cavs could role out next year (consisting of players on this list) is LeBron, Love, and Cousins. The Cavs would only do this if they could guarantee Cousins would re-sign.
1. Phoenix – Eric Bledsoe, Josh Jackson, Alex Len
The Suns are hesitant to do a deal where they'd include Jackson, but if they do, this would be an incredible return for Cleveland. Bledsoe's health is a question mark, but when he's on his game, he's a dynamic point guard who could be great next to LeBron. And while there are questions about whether Jackson's shot will ever come around, he's going to be a fantastic defender whose ability to drive, pass, and rebound should keep him in the league for a while. The Cavs would obviously rather get someone like Devin Booker instead of Jackson, but the addition of someone like Len may help sweeten the deal.