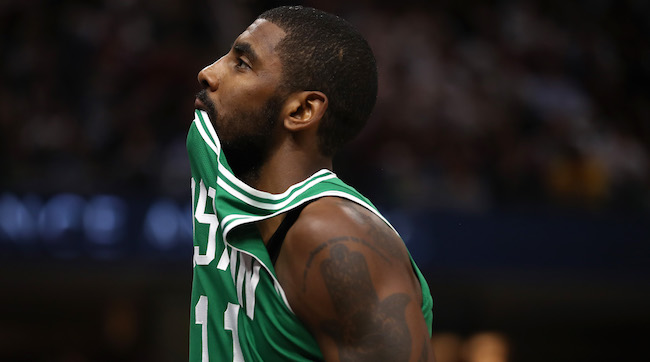 The 2017-18 season opener between the Boston Celtics and Cleveland Cavaliers received quite a bit of attention and much of it centered on the return of Kyrie Irving to his former team. As expected, Irving was showered with boos during pregame introductions but, just moments after the game began, the gruesome injury to Gordon Hayward became the unfortunate centerpiece of the evening.
With that as the backdrop, the Cavaliers had an interesting decision to make, as the team produced a tribute video to honor Irving's time with the franchise.
That video never ran and, according to Joe Vardon of Cleveland.com, there was some negative buzz emanating from the Cavs locker room at the mere thought of its existence.
Via Vardon:
A source with direct knowledge of Cavs' players thinking told cleveland.com that several inside the Cleveland locker room were upset Monday upon hearing that a video was planned.

Carper said the decision to cancel the video was not made because of the Cavs' players' objections, and he said no objections had been voiced to him.
As noted by Vardon, Cleveland did not dignify the notion that pushback from players had anything to do with the choice and, per the report, team spokesman Tad Carper relayed that the team was "expecting to run it at a floating opportunity based on the right moment, and we felt that moment never presented itself."
Given the strange and unfortunate turn of events with Hayward, it is certainly possible that a video showcasing Irving did not make sense within the previously designated time slot.
Still, it is a bit odd that a video would exist and not run and, if more information on this surfaces, the conspiracy theories may begin to flow in earnest.