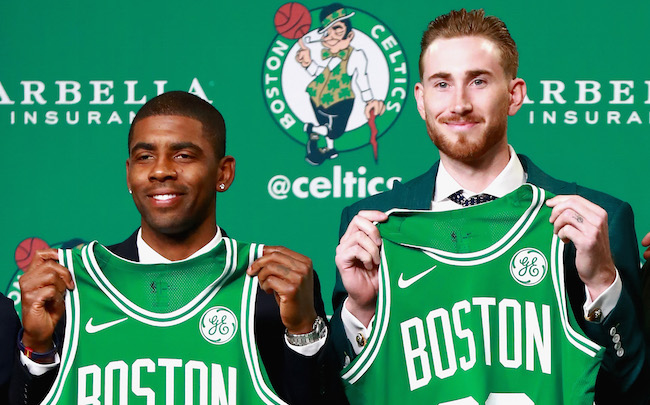 Kyrie Irving's introductory Celtics press conference was held on Friday morning as he met with the Boston media for the first time alongside his new star teammate in Gordon Hayward. Irving spoke for the first time about his relationship with LeBron James, who he says he still hasn't spoken with since his request back in June, and everything surrounding the lead up to the trade.
Afterwards, he joined CSN New England for his first TV interview as a Celtic, in which he asked Brian Scalabrine permission to refer to him as the "White Mamba" in a funny moment just prior to air. After that, it was time for a photo shoot where he donned a Celtics jersey for the first time. We've seen the photoshops of Irving in his No. 11 Boston uniform, both in the Celtics' announcement and in the new NBA 2K18 cover.
However, seeing him actually wearing the uniform still is weird for a couple reasons. First, any time someone associated with a number changes numbers on a new team, it's weird. Second, this is Cleveland's biggest rival in the East, and now one of the Cavs' top stars is there. It's just strange.

It's going to take some time to get used to this, but eventually we'll come to accept this new reality.