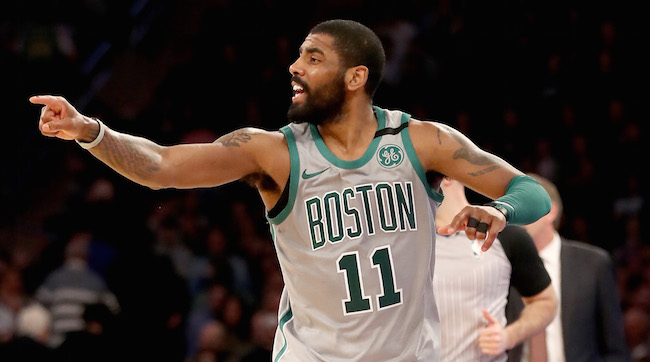 It wouldn't be a real NBA season if we didn't have a controversial play that many deemed outwardly dirty from Zaza Pachulia. The Warriors' center is a big, lumbering 7-footer that is at best incredibly clumsy and at worst purposeful in his dangerous play.
The reality is probably somewhere in the middle, with Pachulia often toeing the line between hustle and recklessness. The latest example was less a product of a hard, late closeout (like the one that injured Kawhi Leonard's ankle last postseason) or a diving attempt at a ball, rather an awkward fall that suspiciously landed him on top of Russell Westbrook's legs.
Pachulia received no punishment from the NBA regarding the play, but Westbrook, Paul George and many fans cried foul on Pachulia's fall being intentional with the aim to injure the reigning MVP. While the controversy had died down some since the incident as Westbrook was unharmed by the fall, Celtics point guard Kyrie Irving, who has plenty of experience playing against Pachulia in the three Cavs-Warriors Finals, had some thoughts.
Immediately after the incident, Irving posted an Instagram comment calling for the league to look into it and saying "that sh*t is ridiculous."

On Wednesday night, Irving spoke with Gary Washburn of the Boston Globe and doubled down on his criticism of Pachulia for what he feels are consistent and intentional dirty plays in a fiery, expletive filled rant.
"I think everybody kind of saw what happened," Irving told the Globe. "Whether Nick's foot pushed (Pachulia) down forward, we've seen it over and over and I don't want to direct just him being a very, very dirty player strictly on him because a lot of dirty plays happen throughout the NBA but I mean when it's consistently happening. Russ felt the same way. Paul (George) felt the same way."

…

"What do you actually feel about it? Because as a player, we've seen it happen before for years and years with him doing (expletive) like that," Irving said. "I don't want the league to just suspend him for 10 games but you've got to take a look at it or something. That's unacceptable in this game.

"Guys who play in this league and play hard, we're trying to keep everybody safe. I think should be the same thing that's echoed in front of everyone else. When it's done like that and we know his intentions, it's (horse manure)."

Irving clearly has strong feelings on the issue and he's not alone. Irving is now among the growing list of people in and around the NBA that have criticized Pachulia's play over the past few years as crossing a line, even if his teammates on the Warriors insist he's not doing so intentionally. Whether all of them are intentional or not, the fact that he continues to find himself in these situations (much like Matthew Dellavedova during his time in Cleveland) is enough evidence that he's a dirty player, even if the intent may not always be there.