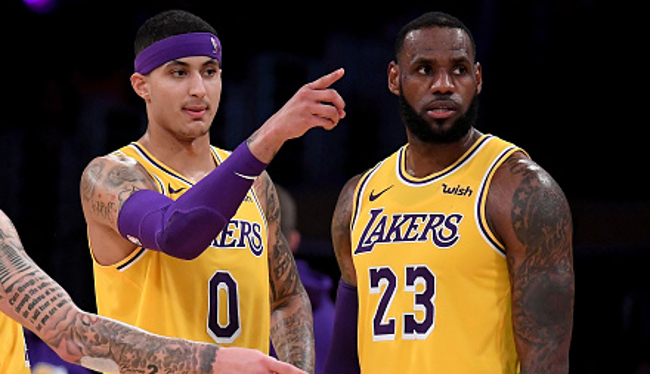 Since entering the league in 2017, Lakers forward Kyle Kuzma has never lacked confidence. During his rookie campaign in Los Angeles, he averaged 13.5 field goal attempts per game, which ranked third among rookies that season. Luckily for Kuzma, that confidence has taken him a long way in his young career.
Through two seasons in the NBA, the 24-year-old has averaged 17.3 points per game on 45.3 percent from the field, including 33.5 percent from behind the arc, while contributing 5.9 rebounds per game. This summer, his production earned him a call up from USA Basketball to compete for a spot on the 12-man FIBA Basketball World Cup roster. It's also one of the reasons he was the only member of the Lakers' young core that was held out of trade talks for Anthony Davis.
Being the last man standing of a group that used to feature two No. 2 overall picks in Lonzo Ball and Brandon Ingram, Kuzma has a lot pressure to play at an All-Star level as soon as next season. In an interview with Ohm Youngmisuk of ESPN, Kuzma said he's up for the challenge.
"I don't feel no pressure, but I believe that I am capable of being that superstar," Kuzma told ESPN. "I put a lot of work in. My progress through my journey shows that I can be there. I developed every single year, dating back to college, and I don't see that development stunting at all."

Kuzma added, "Last year I didn't shoot the ball well, and I still averaged almost 20 [points per game]. If I can shoot the ball well and keep developing the facets of my game defensively, I don't see why I can't [be that third star]."

It's true that Kuzma has all of the tools to be an elite scorer in the NBA, but in order for him to be the third-most impactful player on a championship-contending team, his defensive effort needs to improve dramatically. Last season, Kuzma ranked No. 68 out of 82 eligible power forwards in defensive real plus-minus, according to ESPN. In the season prior, he ranked No. 60 out of 66.
Kuzma also needs to hit threes on a more consistent basis. Last season, Kuzma shot 3o.3 percent from behind the three-point line, including 31.7 percent on catch and shoot three-point attempts and 31.9 percent on wide-open triples, according to NBA.com. It's really hard to be a superstar-caliber player in the NBA in 2019 while being a below-average shooter and a liability on defense.
While Kuzma could figure it out by the time the games start to matter for LeBron James, Anthony Davis, and the Lakers, he still has a considerable amount of work to do. The good news, though, is he seems up for the challenge.