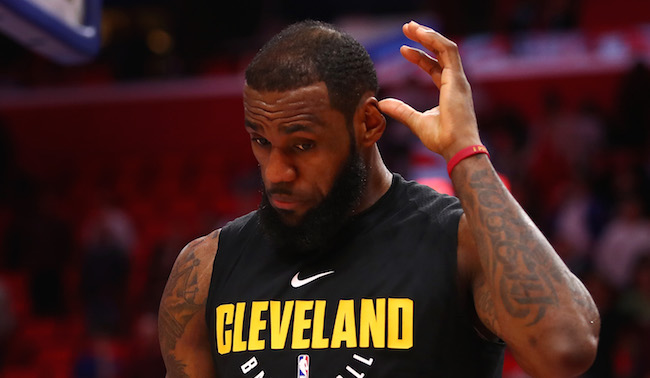 The NBA's trade deadline led to a bombshell move occurring, as the Cleveland Cavaliers sent Isaiah Thomas, Channing Frye, and their protected first round pick in the 2018 draft to the Los Angeles Lakers for Jordan Clarkson and Larry Nance Jr. It wasn't exactly a shocking move — Thomas' tenure in Cleveland wasn't going well, while rumors indicated Nance could be on the move to offset a more unsavory salary like Clarkson's — but it still was a massive deal for both squads.
Beyond how it could potentially alter the course of this season, the impact for both sides stems from the impending free agency of LeBron James, who is eligible to hit the market this summer. It is no surprise that both teams are interested in getting his signature, while rumors have persisted of the interest the best player in the world has in bringing his basketball ability and off-court interests to the City of Angels.
After the deal was reported, there were indications that both sides were ecstatic about how this could help them earn James' signature. Let's start in Cleveland, where Sam Amick of USA TODAY Sports reports James' camp is excited for how this deal makes the Cavs younger while simultaneously showing a commitment to the future.

This move, in addition to the other trades Cleveland has made, does show a commitment to getting younger while still wanting to gun for a ring right now. Seeing as how one of James' main gripes with the Kyrie Irving trade was that the biggest return, Brooklyn's 2018 first round pick, didn't help them win right away, this is a meaningful a
As for the Lakers, this deal was a massive win in its own right, especially when it comes to trying to convince James to come on board over the summer.

How? We'll let Brian Windhorst, who thinks the Lakers should "take a victory lap" after the deal is official, explain.
Of course, it is more than possible that the Lakers have to use that free max contract spot for someone other than James, especially if they are indeed focusing on free agency in 2019 over what's hitting the market this summer. There is still something really funny about the Lakers getting help from the Cavaliers as they hope to pursue their best player.
Have you checked out the new DIME podcast? Subscribe!