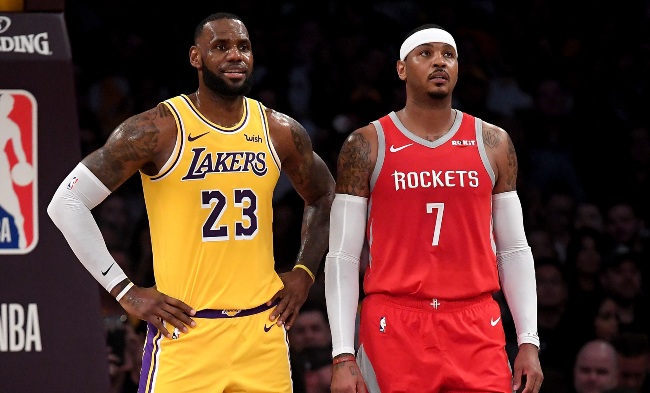 Coming off a devastating road loss to the abysmal Phoenix Suns, and with their playoff odds sitting at just 1.1 percent per ESPN's BPI, the Los Angeles Lakers are "pausing" contract talks with Carmelo Anthony, per ESPN's Adrian Wojnarowski. Anthony, who was released by the Chicago Bulls after being traded by Houston in February and who has not appeared in an NBA game since Nov. 8, 2018, was widely expected to join the Lakers to help the team make a push for the playoffs.
But with the Lakers playoff hopes nearly non-existent, Melo's camp has expressed hesitation.
The Lakers had been leaning toward signing Anthony for the rest of the season — until losses in four of the past five games left the organization and Anthony's camp wondering if it made sense to bring Anthony, 34, into an unsettled environment with suddenly so little chance of making the playoffs, league sources said.

Since LeBron James' return from a lengthy groin injury, the Lakers are just 5-8. They're now 4.5 games behind the San Antonio Spurs for the 8th and final playoff spot in the Western Conference, and 1.5 games behind the Sacramento Kings, who are also jockeying for playoff position.
The Lakers would appear to opt to continue to give their young guys a look to see what plan they want to attack heading into a packed free agency class, with Anthony Davis still on the market as well.
With talks cooling with the Lakers, it remains to be seen whether Anthony will play again this season. There should be some interest in the veteran among teams come summer, but it's been a wild ride for Melo over the past 12 months. There's still time for the Hawks to retire his jersey, too.