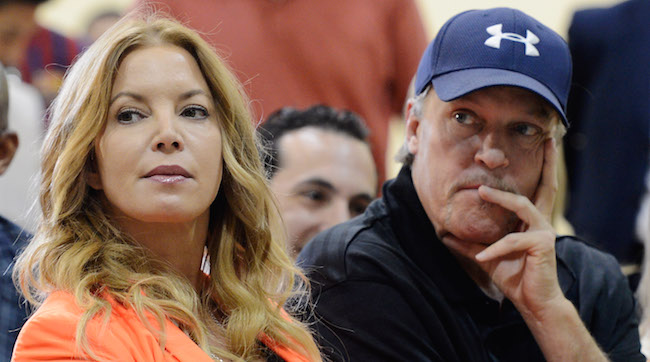 The power struggle at the top of the Los Angeles Lakers organization is far from over. Primary owner Jeanie Buss ousted her brother Jim Buss from his role as Vice President of Basketball Operations and general manager Mitch Kupchak right after the All-Star break, installing Magic Johnson as President of Basketball Operations.
Two weeks after that move seemingly made the power shift permanent, the saga has continued. According to Nathan Fenno and Bill Plaschke of the LA Times, the Jim Buss and his brother Johnny, both still partial owners, attempted to start a coup to take the Lakers back from Jeanie, but were shut down by Jeanie, who filed a temporary restraining order against them to keep them from having meetings without her to elect new directors for the organization.
Attorneys for Jeanie Buss sought a temporary restraining order in Los Angeles County Superior Court on Friday to prevent the brothers from holding a meeting next week to elect a new board of directors for the team that didn't include her. In order to be the controlling owner, she has to be a director.
According to the Times, the family trust that runs the team can elect three of the organization's five board members and Jim and Johnny were hoping to remove Jeanie from power by voting her off of the board. After the restraining order, the two withdrew the request, but Jeanie Buss' attorney Adam Streisand is prepared for this to continue.
"This is no doubt the beginning and not the end of the game-playing," Streisand told The LA Times. "They don't have a legal leg to stand on. This is a legal strategy doomed for failure."
The Lakers transition into the Magic Johnson era has begun, but it appears as though the Buss brothers aren't going to back away and let Jeanie and Magic take control without a prolonged fight.