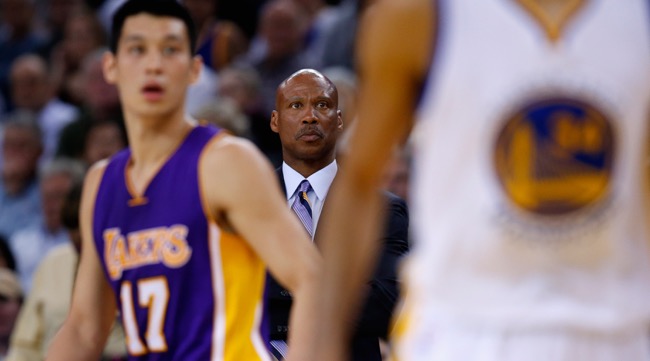 The Los Angeles Lakers have been trapped in an existential nightmare for several years now.
Last season, they went 27-55, which was the franchise's worst win-loss record of the modern era. Thanks to Sunday night's blowout loss to crosstown rivals the Clippers, the Lakers have now lost a franchise-record 56-games, which makes this officially the worst team/season in the Lakers' storied history. If that wasn't bad enough, they barely managed to squeak out 78 total points, which came hilariously close to their franchise-low 70-point game from 2002.
It doesn't help when your head coach Byron Scott can't stop himself from making asinine-bordering-on-delusional comments about how opposing players are telling him they want to sign with L.A. or why Kobe Bryant should be in the MVP discussion.
Nevermind all that. One of the things complicating the Lakers' immediate future is the residual effects of the Steve Nash trade from a few years ago, and interestingly enough, it has little to do with the fact that Nash never became an impact player for the team before succumbing to injuries. We all know how the Nash/Dwight Howard/Kobe super team panned out (i.e. it didn't).
Rather, it has to do with that fact that the Lakers have a top-five protected pick in this summer's NBA Draft. The Suns ended up getting that pick in the Nash trade, but they traded it to the 76ers in a complicated three-team deal that brought Brandon Knight to Phoenix at the February trade deadline. The way it works, the Lakers will end up keeping the pick if they land in the top five of the lottery. If they land outside the top five when the ping pong balls fall into place, they owe it to Philadelphia.
Ergo, losing has been in the team's best interest all season, especially considering a potential top five pick will guarantee them a shot at a franchise-level post presence of the future in Jahlil Okafor, Karl Anthony-Towns, Myles Turner, or Willie Cauley-Stein.
Still, according to the L.A. Times, the Lakers have some other important decisions to make once the season ends. For one, they'll have to decide whether to exercise a team option on Jordan Hill for next season, which would eat up another $9 million in cap space.
"If the Lakers land the fourth pick in the draft, but let Hill go, they'll have approximately $24 million in cap room. Keep Hill, and that number drops to about $15 million, which may not be enough to land a top free agent in the $18-million to $22-million range.
Drafting an Okafor or Towns may lead to Hill's exit. The first decision is likely to weigh heavily on the second.
No pick and no Hill, the Lakers would be near $28 million in cap space."