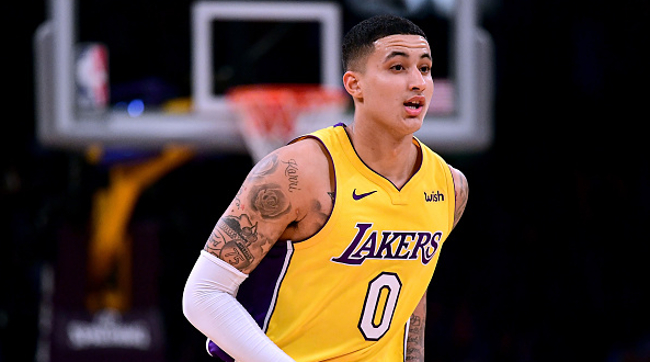 The Lakers and Pelicans are reportedly "engaged" in trade talks for Anthony Davis once again, with those talks apparently growing serious as we approach a week before the NBA Draft.
The Pelicans would like to bring in potential draft picks for workouts and meetings if they are to add 2019 draft assets in a Davis trade, which means they'd like to have a deal done this weekend. The Lakers seem willing to oblige, at least in part, by offering up a package that includes Lonzo Ball, Brandon Ingram, and the No. 4 overall pick.
That's close to their best offer, but leaves out one significant young player in Kyle Kuzma. While there are varying evaluations of Kuzma's potential going forward and what his ceiling is as a player, the Pelicans and Lakers both seem to think highly of him. According to Tania Ganguli and Brad Turner of the Los Angeles Times, a potential deal may hinge on Kuzma's inclusion.

In their column on the potential deal, Ganguli and Turner go on to note that Kuzma is apparently the young Laker the Pelicans "covet" the most.
The New Orleans Pelicans are interested in three of the Lakers' young players — whether that's Lonzo Ball, Brandon Ingram, Kyle Kuzma or Josh Hart — and the No. 4 pick in order to acquire Davis, according to people familiar with the trade discussions who were not authorized to speak publicly because of the fluidity of the situation. It's possible New Orleans could use the No. 4 pick to acquire a player from a third team.

Among the current young Lakers, New Orleans covets Kuzma the most.
They go on to note it's possible adding Kuzma could lead the Pelicans to lessen their demand on the fourth pick, but that seems highly unlikely as the Pelicans want to use the fourth pick to find a third team to add to the deal to bring in a veteran player right now that's near the All-Star level. While it's tricky to figure out who exactly that could be, given that David Griffin is running the show in New Orleans now, expect Kevin Love's name to pop up in rumors as the potential star-caliber player that could be on the move.
In any case, it's fascinating that Kyle Kuzma could be the biggest impediment in a deal getting done, but for now it seems all parties involve want him to be on their team for the 2019-20 season.