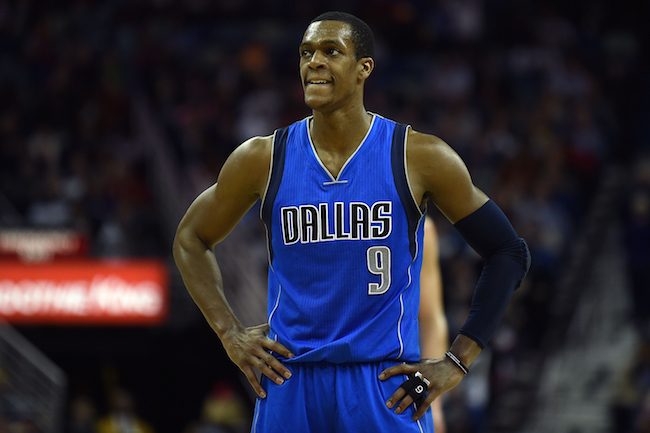 The Los Angeles Lakers don't really have a lot to be optimistic about these days. Even when Kobe Bryant returns – whenever that will be – the chances of them competing for a championship in the foreseeable future are about as slim as Giannis Antetekoumpo's limbs.
Still, they may have gotten the steal of the draft in combo guard Jordan Clarkson, and it'll be interesting to see exactly what they have in lottery pick Julius Randle, who missed his entire rookie year with a knee injury but is slated to return next season. Beyond that, the outlook is bleaker than a Rust Cohle diatribe.
It's exacerbated by Bryant's contract, which has gobbled up a great deal of cap space that could have been used to go after star-caliber players. However, according to Sean Deveney of the Sporting News, it seems likely that the Lakers' front office are circling their wagons to make a play at one or both of the top two point guards who'll enter free agency this summer: Rajon Rondo and Goran Dragic.
"Assuming the Lakers stay in win-soon mode, it is a safe bet that they will go hard after the two top point guards on the market, with Bryant's pal Rajon Rondo at the head of the list and Goran Dragic behind him."
The only problem is that there's no guarantee either one of them will actually be available. Rondo, despite a rocky start to his "stint" in Dallas, has claimed that he'd prefer to re-sign with the Mavs this summer. Dragic, for his part, would also appear to be in a better and more stable situation in Miami as part of a core unit that includes Dwyane Wade, Chris Bosh (assuming he comes back healthy as expected), and a rapidly developing Hassan Whiteside.
Nonetheless, Bryant has made no secret about his desire to land Rondo, and the temptation for the mercurial point guard to join forces with his former rival/fellow asshole in L.A. for a presumed title run might be too much to resist. Whatever happens, the Lakers' brass can't afford to be shy about making bold moves, especially at the risk of dithering away Bryant's few remaining years on a team that's headed nowhere fast except back to the lottery.