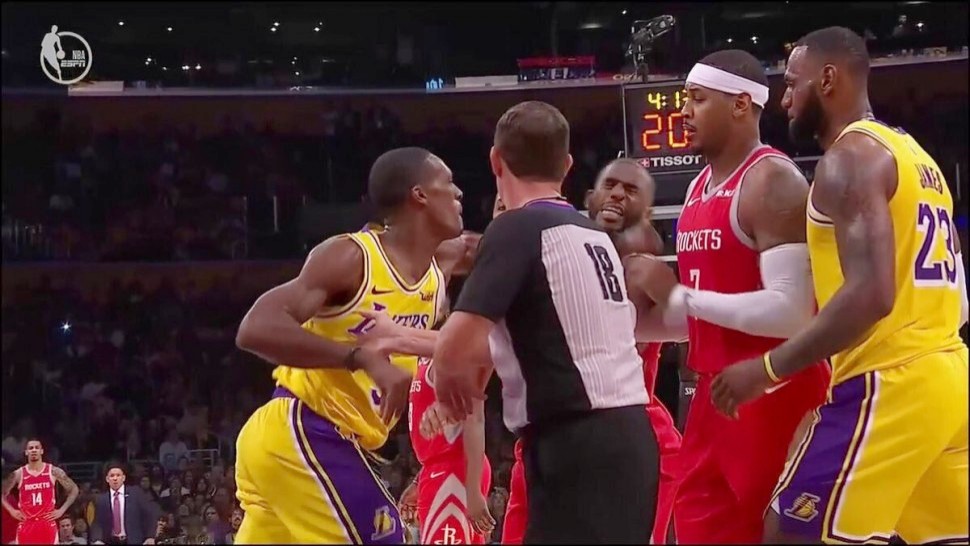 The Lakers and Rockets played in a back-and-forth game on Saturday night that lived up to all the hype entering LeBron's home opener in L.A., but while there was plenty of action early, the real fireworks came late.
After Brandon Ingram got called for a foul on James Harden in a one-point game with four minutes to go, he shoved the reigning MVP and then got in the face of Harden and the referee before being pulled back. Then, shortly after that when things seemed diffused, Chris Paul and Rajon Rondo got into it, with Paul pushing Rondo in the face and Rondo responding with a left hook to Paul's chin. The two continued to throw hands before eventually being separated, with Ingram running in to throw a haymaker.

Rondo, Paul, and Ingram all got tossed, unsurprisingly, but that certainly won't be where their punishment ends. Fines are assuredly coming and one would guess suspensions for punches thrown, particularly Ingram and Rondo. Making matters worse is that the man handing those suspensions out, Kiki Vandeweghe, was in the building for Saturday night's action so he saw it all live before having to review the tape.
According to ESPN's Adrian Wojnarowski, with the Rockets playing the Clippers tomorrow on an L.A. back-to-back, suspensions could come down as early as Sunday afternoon.
Former NBA executive Stu Jackson offered further thoughts on what they'll face.
It's hard to speculate on the length of suspensions, but given Ingram's role in instigating all of it by shoving Harden and then coming back in with a wild punch at the end, he may very well get the worst of all of the punishment. Rondo's punch landing likely earns him some time off and Paul may not be safe since he pushed Rondo in the face, claiming Rondo spit on him, and also threw hands after getting punched himself.