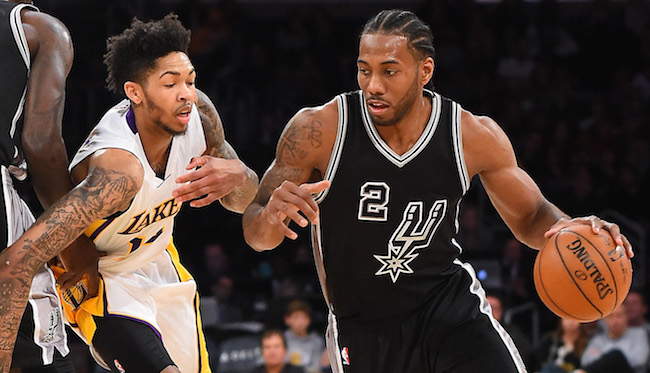 The Spurs haven't been particularly keen on dealing Kawhi Leonard despite his recent request to be traded by San Antonio this summer. After the draft, R.C. Buford noted he still planned on trying to keep Leonard around and the Spurs were hopeful to still sign him to the supermax extension.
However, they are listening to offers even if not actively shopping their star, and will need to be blown away by an offer. The Lakers are supposedly the preferred destination of Leonard, but that means nothing in trade talks as San Antonio doesn't have to honor his request. L.A. could sit back and wait for him next summer, in an effort to avoid a Knicks-Carmelo Anthony trade situation, but after doing so with Paul George only to see him grow "comfortable" in OKC, they might feel a bit more pressure to act now.
The Spurs aren't in the business of helping the Lakers out, which resulted in them being "shut down" the first time they tried to open talks with San Antonio. Now, though, the Spurs have yet to see the bounty of assets they likely hoped to get from other teams and the Lakers really want Leonard on the squad soon so they can use that to convince LeBron to join them.

According to ESPN's Ramona Shelburne and Adrian Wojnarowski, the Lakers have managed to re-engage the Spurs in trade talks and are being very aggressive in their pursuit.
One would assume "aggressively pursuing" Leonard would mean the Lakers are putting some of their best assets on the table for discussion, like Lonzo Ball, Brandon Ingram, and draft picks, and not trying to squeeze the Spurs in negotiations. It's also important to note that given that the first conversation ended extremely quickly, it still seems like the Lakers would have to really wow the Spurs to even get them into real negotiations. There are teams that could theoretically offer better packages than the Lakers, but without a guarantee of him re-signing and the fear of him bolting for L.A. after one year, teams are wary of selling the farm for Leonard.
The Lakers, as noted, have reason to be aggressive now rather than waiting back. Next summer's crop of free agents features some star names as well, but with all due respect to that group, none of them are LeBron James. Signing LeBron immediately makes a team a contender, and putting James with Leonard would be quite the duo to start building around. It's obviously not ideal to have to deal away multiple quality assets for Leonard, but if it gets them LeBron it would probably all be worth it.
In their story, Wojnarowski and Shelburne note that landing Leonard would all but "clinch" LeBron to the Lakers, which explains their increased efforts. They also note that while the Lakers are hoping to keep the package going back to San Antonio reasonable, citing the recent deals for Paul George and Kyrie Irving, the Spurs aren't biting and will insist on a very strong package of assets.
The Lakers are using the Paul George and Kyrie Irving trades as proportional models for a Leonard deal, but San Antonio understands that this trade, for intents and purposes, would mean Leonard and James coming to the Lakers, and will likely command a massive package of young players and draft picks for Leonard, a two-time first-team All-NBA and two-time NBA Defensive Player of the Year.
Shelburne and Woj also note that the expected asking price will include many of the Lakers' prized young players as well as future first round picks, which explains the Lakers' recent efforts to find another first rounder in a trade. However, interestingly enough, the story does not include Lonzo Ball as one of the young players listed, whether that's based off of reporting of negotiations or just an omission of choice, we don't know.
According to Tania Ganguli of the L.A. Times, who confirmed the conversation on Wednesday night, the discussion between the two sides was "productive," which is a far cry from their first efforts.
For now, it seems like this is the first sign of positive progress for the Lakers, and how desperate they feel it is to get Kawhi before LeBron could make for a quick escalation in talks. That said, the Spurs also can sit back and use the Lakers' newfound desire to make a deal happen quickly as leverage to try and push the other teams that have called about Leonard into giving up more assets in hopes they can do to Kawhi what OKC did to Paul George and make him at least seriously think about staying.