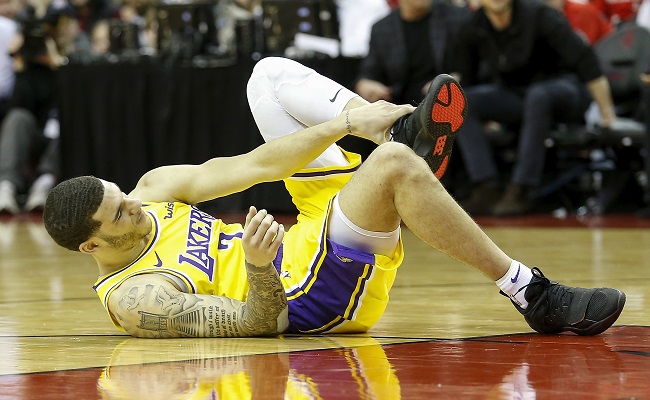 There are numerous things that happened during the 2018-19 Los Angeles Lakers season that were really, really weird. One such instance was the ankle injury suffered by Lonzo Ball. Originally, it was believed that the sprain would only keep him out for 4-6 weeks, but seeing as how the injury occurred in mid-January and he's still not cleared to play, that ended up being extremely wrong.
A new report from Shams Charania of The Athletic shows both the extents to which Ball was willing to go to fix the issue while highlighting the dysfunction that was on display in Los Angeles. According to Charania, Ball's camp — namely estranged business manager Alan Foster — had him fly out to Ohio in February to get an ankle procedure performed by a doctor that had previously worked with his younger brother, LiAngelo.
The issue was that Los Angeles had zero idea this was happening, and when the organization found out, they weren't happy. Ball was warned that if he went through with the procedure, the team reserved the right to void his contract.

Via The Athletic:
The Lakers found out about Ball's situation when Lonzo Ball called General Manager Rob Pelinka, and the organization informed him that they would not allow it and could void his contract if he went through with the procedure, sources said. The Lakers then arranged transportation to bring Ball home, sources said. This could have been a disastrous moment for the Lakers, with a core player potentially undergoing a procedure that could have blindsided the organization. But Johnson and Lakers General Manager Rob Pelinka communicated with those around Lonzo, working with his then-agent Harrison Gaines to squash the procedure and bring him back to Los Angeles, sources around the team with knowledge of the situation said. Gaines declined to comment when reached by phone.

Johnson and Pelinka then accompanied Ball to his doctor appointments to ensure the guard was back on track with the Lakers' rehab regimen, league sources said. Sources around the Lakers say Johnson frequently spent time around his players, such as Brandon Ingram and Ball, during times they were undergoing medical recovery. Ball suffered grade 3 ankle sprain on Jan. 19 and would ultimately miss the remainder of the season.
The report was eventually confirmed by Tania Ganguli of the Los Angeles Times.
Naturally this leads to questions about whether Ball's ankle is bad enough that he should get surgery instead of rehabilitating it. All of this is completely insane, from those close to Ball going behind the Lakers' back to try and set this up, to the Lakers straight up saying they'd void his deal if he went under the knife, but at the same time, completely insane stuff defined the Lakers this season.