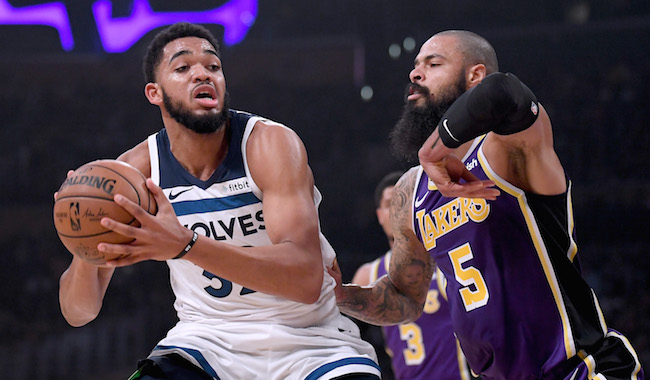 LOS ANGELES — The Minnesota Timberwolves need to talk.
It's a simple statement that is accurate at many levels, even if in some instances it's too late for some conversations to fix things off the court. The Wolves needed their star players to talk last year to come to an understanding on how to play together. They needed Jimmy Butler to more clearly explain his desire to move on to Tom Thibodeau earlier in the offseason rather than later. They needed (and, really, still do) Thibs and Glen Taylor to talk and figure out how to get on the same page when moving Butler.
On the court, that communication breakdown is a problem as well. The Wolves have the second worst defensive rating in the NBA at 114.6, which is somehow worse than their 110.1 rating from a year ago that saw them finish 25th in the league. Part of it is personnel, as the mixture of aging veterans and young players at times still finding their way hasn't meshed, but so many of their problems simply come down to a lack of communication, which leads to players not being on a string.
"It's all about everybody talking and knowing everybody else's assignments, because you never know who you're going to guard in transition," Butler said after the 114-110 loss. "I think the season's still young, but we can't use that excuse too much longer because these games come around quick."
Against the Lakers on Wednesday night, it was painfully obvious at times that the Wolves simply weren't talking out coverages enough. There was a pick-and-roll where Jimmy Butler went to switch and Derrick Rose fought over the top, leaving a man wide open and then, again because the communication wasn't there, both players chased back thinking they were the one that had left their assignment. There was a baseline inbounds play late where Andrew Wiggins thought they were switching and let LeBron James dart to the corner uncovered for an uncontested jumper (that he missed), while Wiggins turned around gesturing at the frontcourt for an explanation after the fact. Throughout the game the Lakers could seemingly get a good shot provided they did the bare minimum of moving the basketball and forcing the Timberwolves defense to move and rotate, because inevitable a link in the chain would break.
And still, despite their defensive miscues and allowing the Lakers to shoot 48.4 percent from the field and 44.1 percent from three — L.A.'s second best mark of the season — Minnesota was in the game late thanks to Derrick Rose's 7-for-9 night from three-point range and some timely Jimmy Butler buckets late. Karl-Anthony Towns, however, might as well have been absent after the first quarter. The All-Star center came out on fire, with nine points and four boards early to take advantage of what has been a mediocre at best Lakers frontcourt, and it looked like we were in for a big night from him.
And then, as has been the case all too often this season, Towns disappeared. He finished the game with 13 points and nine rebounds, going 2-of-10 from the field after the opening quarter and often settling for outside shots after getting manhandled inside by the newly acquired, 36-year-old Tyson Chandler.
With Towns rendered obsolete on offense, the Wolves leaned on Butler and Rose for their offense and it almost worked, but the lack of balance was stark and even if improved, leaning on Rose's three-point shooting seems like an unsustainable offensive strategy. The Timberwolves need Towns active and engaged throughout the game, and when asked afterwards what the team can do and what Towns can do to have better sustained performances, coach Tom Thibodeau wasn't exactly forthcoming.
"We just gotta figure it out," Thibodeau bristled.
That quote embodies the Timberwolves this season. The idea that at this point they'll just "figure it out" and get the pieces to work together without communicating with each other as to why things may not be working is why this team is destined to fall back into mediocrity. At 4-8 they're tied with the Suns and Mavs in the loss column and as Butler noted the "season is young" excuse is quickly losing its merit.

Tyson's Tips: Tyson Chandler made his Lakers debut less than two days after officially signing with the team and played 23 minutes, making his presence felt on the glass as he pulled down nine rebounds, none bigger than a pair of tip-out boards to extend the Lakers' final possession, forcing the Wolves to foul Kyle Kuzma to go up two.
The Lakers and LeBron James were excited about the addition of Chandler, and there's understandable skepticism from the outside about how big an impact he can reasonably be expected to have. However, what he gave L.A. on Wednesday night seems like the ideal role for him, being asked to do the dirty work on the glass and be a presence defensively, even if he's not close to what he was as a former Defensive Player of the Year. The veteran Kyle Kuzma
"It was huge," Kuzma said. "He's a champion for a reason. 18 years in the league and those tip outs were super huge for us. We were up one at that point, and for him to get about three of them, that was big time. That's championship habits."
It was notable that the Lakers closed with Chandler over JaVale McGee, because there's already a trust that Chandler will be in the right places on both ends of the floor. Luke Walton was rewarded for that in the form of Chandler's clutch boards, and the aforementioned defense against Towns, we'll just have to see if he can keep up this level of play at the minutes it appears he'll be asked to give them.
Rose To The Occasion: The play of Derrick Rose lately on the floor has been an undeniable boost for the Timberwolves in the absence of Jeff Teague, and on Wednesday in L.A. he made a career-high seven three-pointers — he had made six on three separate occasions in his career. After the game, Rose's Wolves teammates who played with him in Chicago spoke about his confidence level being as high as they've seen it in years, with Tom Thibodeau and Jimmy Butler noting the key was he had a full offseason to work on his game, not rehab, this summer.
The final possession was drawn up to give Karl-Anthony Towns three options, with Rose coming around for a handoff as the first, given he had the hot hand. Rose curled off a Jimmy Butler screen and found his way to open space at the top of the key with a great look at his eighth three, but it bounced harmlessly off the rim — although the Wolves wanted a foul on Chandler's late contest after the game. If Rose has truly added a decent three-point shot to his reportoire as it seems — he's getting more lift and air on his shot than in previous seasons — he can be a positive contributor to this team all season.

Towns Business: Something's got to change for Karl-Anthony Towns, and fast, because after signing his max extension this offseason he seems stuck in a funk that he can't break. He's had some good games and, at times, has looked like he's about to turn the corner and become the super-productive, dominant offensive player he's been in the past, but then he has games like Wednesday night. Towns was stymied by Tyson Chandler, who is a strong, crafty defender who was once one of the best in the league down low. However, Chandler is 38 and Towns is supposed to be an All-NBA caliber center. He can't disappear this way, no matter what is going on in Minnesota around him.
It's clear the Jimmy Butler saga has effected Towns negatively and it appears he's in his own head about how to get out of it. Rather than using his footwork, skill, and athleticism to maneuver around Chandler, Towns tried to play bully ball for a bit before conceding to Chandler's strength and choosing instead to just hoist three-pointers.
All parties are to blame in Minnesota for Towns' struggles. The organization certainly has done him no favors with how they've handled the Butler situation and have either not accounted for or don't care what the effect it has on Towns. However, Towns has to shoulder the majority of the burden when it comes to his play. He hasn't adapted well to an admittedly less than ideal situation and remains passive when things aren't going well. Making matters worse, the worse he plays, the more it looks like Butler was right in his frustration with Towns.
Shot To The Hart: The Lakers wouldn't have been in the game if not for the contributions of Josh Hart of the bench with 21 points, matching Kyle Kuzma and only trailing LeBron James for the team-high. Hart hit 5-of-7 three-pointers on the night and remains one of the few reliable perimeter threats on the team, leading the team with 25 made threes on the season and his 45.5 three-point percentage is second only to checks notes Rajon Rondo and JaVale McGee?
The rest of the bench unit was an abject disaster offensively, but Hart did enough to hit timely shots to keep the Lakers in the game when LeBron James was on the bench and continues to be a steady bright spot for this Lakers team. The key for young players on a LeBron team is to make yourself a reliable option that he can trust, and maybe moreso than anyone else on the roster outside of Kyle Kuzma, Hart has done that in this young season on the offensive end.
Dime editorial director Martin Rickman contributed reporting to this piece.