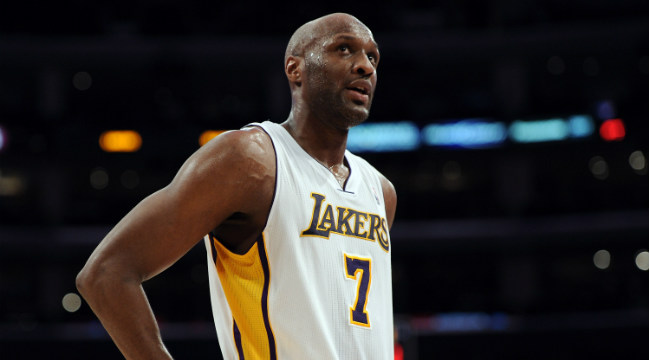 Lamar Odom hasn't played in the NBA since 2013 but, in his mind, his career effectively ended in December 2011. The now 37-year-old retired player battled a myriad of issues since leaving the league but, in speaking with Shams Charania of The Vertical, Odom revealed that he believes everything stems from the deal that sent him from the Los Angeles Lakers to the Dallas Mavericks.
"That trade from the Lakers basically ended my career and purpose. I was never really myself ever again. Being in L.A., the structure, the people I knew, it hurt leaving. I had great memories with the Lakers, with Kobe and Pau. That was a special time in my life.
Odom enjoyed seven fantastic seasons with the Lakers, including the fact that he was a key cog on two NBA title teams alongside Kobe Bryant, Pau Gasol and Phil Jackson. In addition to the overall sentiment concerning the deal, Odom went on to shed more light on his mindset and just how much the trade took a toll on him.
"I got traded the season after we lost to Dallas in the playoffs, and I had won Sixth Man of the Year for the team. To trade me after winning Sixth Man of the Year … what else do I got to do? Why?

"I think about it all the time, about how much I had left in the tank. I had issues going on. But barring injury, could I play in the NBA today? I could play. I should still be playing."
Given that Odom is 37 years old, it isn't inconceivable to think that he could still have a functional career in 2017 if not for the way things played out both on and off the floor. He has opened up publicly about almost dying from drug use and Odom clearly has battled personal demons along the way but, at the same time, the 6'11 forward always deployed a varied, interesting skill set that may have translated deeper into his career than a more conventional player.

Within the same piece, Odom went on to praise his friend and former teammate in Bryant, with whom he built so many of his aforementioned basketball memories.
"No one was close to Kobe for me, his competitive spirit. I mean, D-Wade and Chris Paul … Chris Paul is second with his competitive drive, but Kobe Bryant, man, in the morning, man. He taught me to really finish off. To finish. Finish everything. I already had the Heat mantra instilled in me, lifting weights every day, which I started that season in Miami. I was cool with that, being around Kobe. You want to be strong, defend your spot and your territory when you play with Kobe."
This isn't the first time that a teammate has praised Bryant's mindset and ability to motivate those he takes the court with at any given moment. Given that hindsight is (nearly) always 20/20, it is aggressive to think that Lamar Odom could still be playing in the NBA but he's saying all the right things and it is quite clear that he believes one of the pivot points in an interesting and challenging arc was the move from Los Angeles to Dallas.
(Via The Vertical)