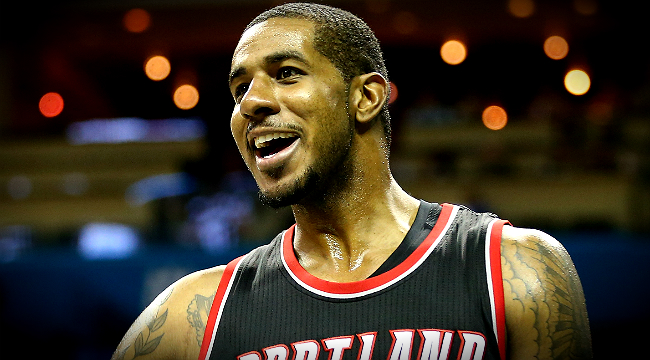 LaMarcus Aldridge wasn't impressed with the basketball portion of the Los Angeles Lakers' presentation to him — which is kind of important, seeing as the Los Angeles Lakers are a basketball team, and basketball teams play basketball. So despite the fact that every important free agent in history is technically considered a #FutureLaker, Aldridge's future in L.A. is going to have to wait. The Lakers took down their tweets wooing him to the Windy City Hollywood, and he's turned his attention elsewhere.
There are still a few teams in the mix with arguably the highest profile free agent left on the board. (We are assuming LeBron James is headed back to Cleveland. Dan Gilbert is spending money like he's been told the apocalypse is coming by 2017. And James has made no indications he'd head anywhere else, especially after the team locked up Kevin Love, Tristan Thompson and Iman Shumpert to long-term deals already.)
Aldridge has the skill level to instantly make a team with an established core a title contender, and at 29, still has plenty of productive years left. He's coming off a season in which he averaged a career-high 23.4 points points per game to go with 10.2 rebounds.
Let's take a look at four teams with a realistic shot of landing him. (The Lakers are out, obviously, and for the sake of brevity, Toronto has been excluded from the conversation despite impressing Aldridge in their meeting with him. The Knicks meet with him on Thursday.)
San Antonio Spurs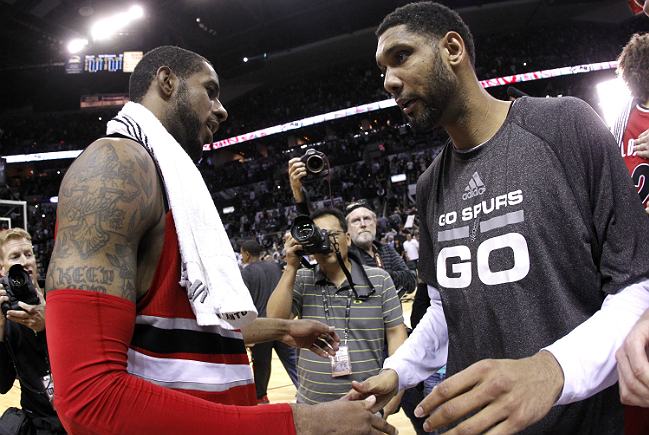 The odds-on favorite to land Aldridge right now, the Spurs have just about everything the All-Star is looking for. From a basketball standpoint, it makes perfect sense. This might (finally) be Tim Duncan's last year, and he could pass the torch onto Aldridge to keep the team running for another 100,000 miles like a well-maintained Honda engine. The team has a great mixture of veterans and key younger players. And as we all know, Gregg Popovich is arguably the best coach in the NBA, and the way he manages his roster should allow LMA to stay healthy and sharp into the playoffs.
Aldridge is the rug that would really tie the room together; San Antonio certainly doesn't need him to continue to do great things, but he'd make them scary good.
With Kawhi Leonard and now Danny Green locked up, Aldridge would immediately step in to elevate a team that was a heartbreaking shot in Game 7 against the Clippers away from potentially making a big mess of the playoffs. This would scare the everliving bejeezus out of the rest of the Western Conference, and it has the added bonus of being a Texas team, getting Aldridge closer to his home state, where he grew up and went to college.
Phoenix Suns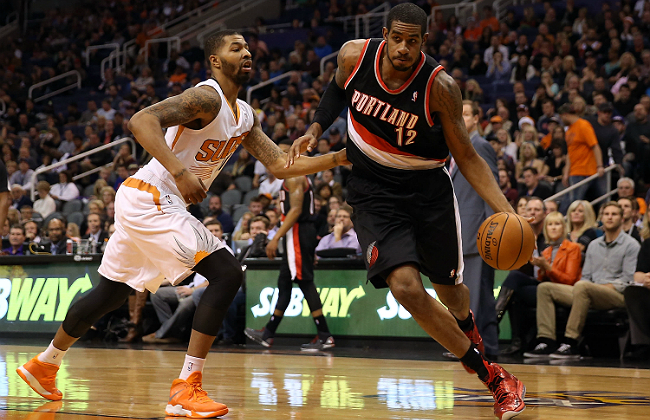 I'm not exactly sure how the Suns kept newly-minted free-agent acquisition Tyson Chandler a secret from LMA, but the idea of wheeling in a gigantic cake during Phoenix's presentation to Aldridge and having the 7-foot-1 center jump out and yell, "SURPRISE!!!!" has been bringing me joy for hours now.
Chandler is a big deal – not only do guys love playing with him, but it allows position flexibility for Aldridge, who might just be happier playing at power forward than having to log a ton of minutes at center. And playing with a true center like Chandler, who can draw a big body's attention away from Aldridge on the elbow, certainly doesn't hurt.
The Suns also have Alex Len in the mix, meaning the rotation will stay fresh and everybody can stay happy playing some minutes but not being overworked. Even if someone gets hurt, that's OK, the Suns have that ever-impressive training staff with their RPG mages and healers who can find ways to extend a career through nothing more than some roots, stretching and proper hydration. Nailing down a long deal for Brandon Knight early in free agency was a nice touch too.
Houston Rockets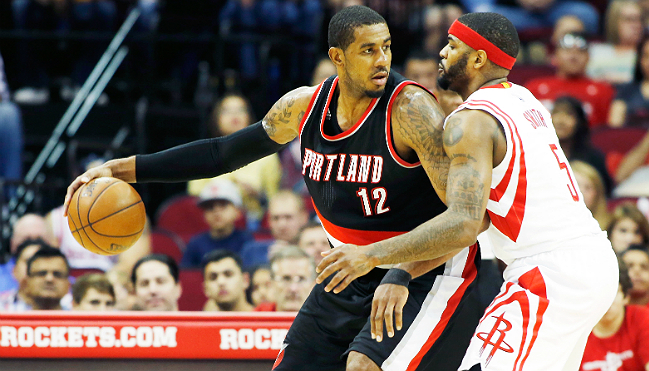 There's still work to be done for Houston if it wants to clear enough space to get Aldridge on the payroll. That should be no trouble for Daryl Morey, who knows the cap better than some people know the channels on their cable box. The Cavs could be an interesting trade partner, as they have that non-guaranteed Brendan Haywood deal at $10.5 million, and Cleveland is still looking for wing help (cough *Trevor Ariza* cough).
Aldridge has already been impressed with what Houston has had to offer from an analytics standpoint, and it's hard to disagree with what Houston's been able to do in building a team over the past few seasons. Dwight Howard would likely complement Aldridge well, and playing with a guy as talented as James Harden is never bad for anyone.
Houston can't be counted out of this chase, but the Rockets would have to gamble on believing it can truly land LMA, which means clearing room first. This could come back to bite them, as we saw with the potential Chris Bosh deal last year. But if it pays off, it could be just the push the Rockets need to finally get over the hump in the West.
Portland Trail Blazers
Don't rule out Aldridge staying with Portland, even if the team's own coaches seem to think it's a done deal that LMA is out the door. It's a "Devil You Know" type of situation, and he's had some really good times out there. The bike paths are terrific, and oh yeah, most importantly, this is how LMA can make the most money. We get so swept up in free agency, believing guys will bounce around and join new teams, but their earning power — thanks to Bird Rights — is maximized if they stick around (Just see Carmelo's marriage to the Knicks if you don't think it matters). Although there's always the ever-elusive sign and trade option if guys make enough fuss and noise.
But Portland is still a playoff contender with a healthy Damian Lillard. If the Blazers can find ways to upgrade the roster after the trade of Nic Batum and prove to Aldridge they'll keep him happy other than just monetarily, they're still a very real threat to keep him around. And with the Pacific Northwestern beauty that Portland provides, they can't be overlooked as LMA's landing spot at the end.
That's going to be the biggest test; this is Aldridge's tour-de-force contract, and he doesn't want to waste his prime in the Nos. 6-8 playoff seeds, getting bounced in the first or second round. Portland probably needs to convince Aldridge that they're committed to winning – and soon. Unfortunately, they're not as close as some of the other teams on this list, even with Dame at full strength and purportedly about to be locked in long-term.