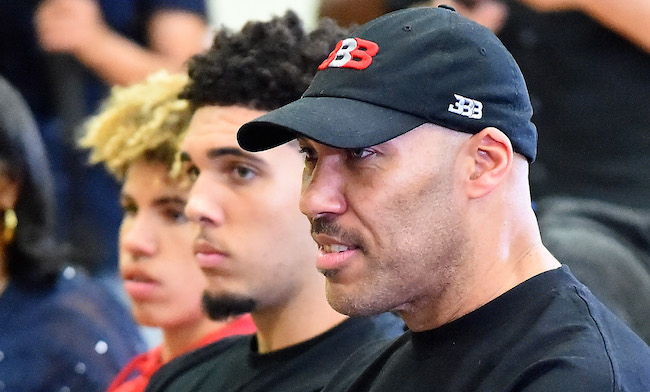 The Ball brothers are very close to taking their talents overseas. After LaVar pulled both LaMelo and LiAngelo out of their respective schools over the past few months, the Ball family patriarch made it known his plan was to have both of his sons sign with the same team to play overseas until they are eligible for the NBA Draft.
LaMelo and LiAngelo recently signed with the same agent as older brother Lonzo, and LaVar has been adamant they play together overseas. Now, it appears as though LaVar is about to get his wish in the form of Lithuanian club Prienu Vytautas, as ESPN's Adrian Wojnarowski and Jonathan Givony reported on Monday afternoon.

Nothing is official, but the fact that Woj is reporting "serious" discussions indicates it is a very real possibility that the younger Ball brothers could be heading to Europe in the very near future. Givony reports the team is still debating whether to make the signing a reality and that the Ball boys would not likely see much playing time in the upper league but could develop in a lower league with the club.
It'd be very interesting if the Ball brothers land in Lithuania, considering a coach in that league recently joked about being willing to give them a job on the security staff. If they do end up signing the deal, LaVar has said he will go with them for a bit, so if you've been hoping for a little break from LaVar on your TV screens, this just might be a Christmas miracle.
UPDATE: It's official, the Balls are heading to Lithuania. The official Big Baller Brand Instagram account posted pictures of both LiAngelo and LaMelo signing their contracts with Prienu Vytautas.
The post did not indicate when they will start their careers abroad, but reports indicate that they will report to the club in January.