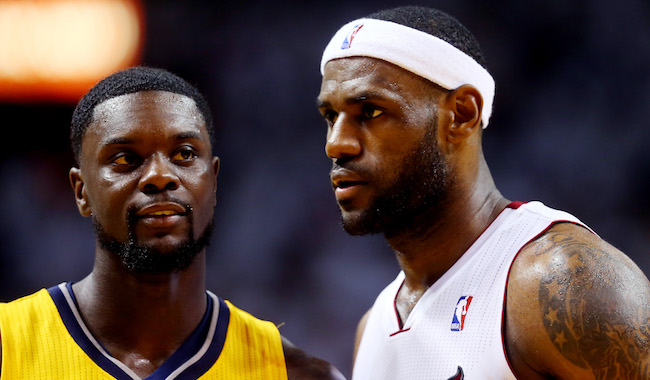 LeBron James is always in control on the basketball court and that was on full display during the 2018 NBA Playoffs when he baited long-time nemesis Lance Stephenson into a technical foul. Of course, no one in the basketball world was overly surprised when James got the best of Stephenson in a mental battle on the hardwood but, in the same breath, that interaction conjured memories of the infamous incident in which Stephenson bizarrely decided to blow in James' ear.
That particular choice was covered from every angle back in 2014 but, with Stephenson now joining James as teammates with the Los Angeles Lakers, the veteran swingman sat down for a lengthy interview with The Score that also happened to include reflection on the ear-blowing moment.

"I was really trying to get him mad," Stephenson said. "Really trying to win the game, trying to get him unfocused. I was trying anything. For you to do something to somebody and they don't respond, they keep continuing playing hard, it's like 'yo, how do I…' I was just trying to find stuff. I don't regret it but, sometimes I look at it like, 'Why did I do that? What made me do that? LeBron was such a good player… I was trying to do anything to get him frustrated. It's going to be different, trying to be friends or… being friends with LeBron, you know what I mean?"
Within the same interview, Stephenson admits that the "closest to (Stephenson) getting (James) frustrated was this year," when James actually began "talking back, pushing (Stephenson) and stuff. In 2014, though, James was famously calm and appropriately dismissive, rendering Stephenson's off-the-wall choice hapless and further leaning into the meme that would quickly arrive.
Of all the interesting and controversial free agent moves from the Lakers this summer, Stephenson was perhaps the most jarring, both for basketball and non-basketball reasons. On the floor, he hasn't been particularly effective on either end of the floor in recent years and the Lakers gave Stephenson more money (more than $4 million) than he was expected to garner, particularly given the floor-spacing issues that arise when he is on the floor. Elsewhere, it feels like an odd fit given the history between James and Stephenson, before dealing with Stephenson's other off-court transgressions and fit issues.
The final portion of his quote, pointing to the "different" nature of playing alongside James rather than antagonizing him, is important in that Stephenson appears to at least understand that his role might be quite different now. That doesn't mean that everything will go well but, after more than four years of relative uncertainty as to what was in Stephenson's mind during the ear-blowing occurrence, now we know.