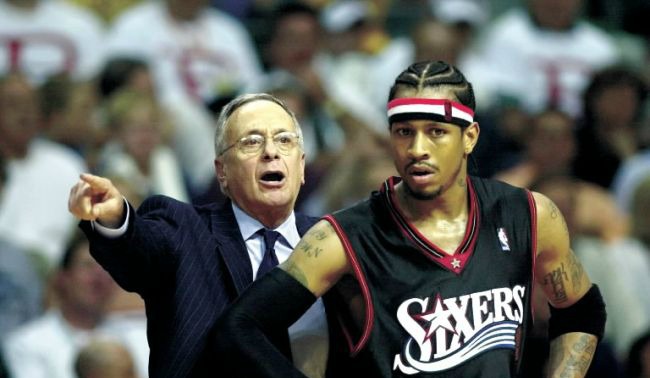 Larry Brown is currently the coach of the SMU Mustangs. He's also in the middle of serving a nine-game suspension, but that doesn't change a coaching resume that requires a stapler. At one point, Brown was the head coach of the Philadelphia 76ers, and he helped guide them to the 2001 NBA Finals before succumbing to the Kobe-Shaq Lakers in the second year of their three-peat.
The best player on that Sixers team was of course Allen Iverson, and although the Brown-Iverson combination never won a title in Philadelphia, the Sixers haven't even advanced past the second round of the playoffs since the two spearheaded the franchise.
With the Sixers in their current state, having been one of the worst teams in the league (intentionally) for the past few seasons, Brown has some ideas about how to turn the team around. He's already stated that Philadelphia should hire Iverson to join the front office, and he doubled down on those comments when speaking about the 76ers to Sheridan Hoops' Jon Marks.
"I'm sick of what's going on there… You know I care about the Sixers. It's an unbelievable basketball city and I had a great experience there. I don't want to get on them when they're struggling, but they don't have any veteran leadership. I want to help. I could straighten it out in five minutes. I wish they'd get Allen involved. All those young kids worship him."
Brown seemed hopeful that the newest addition to the front office, Jerry Colangelo, will turn things around, and he certainly doesn't appear to be a fan of the "process" that GM Sam Hinkie has put in place.
Although SMU is a top-20 ranked team in college right now, they aren't eligible for the postseason, and Brown's time there has been anything but smooth sailing thanks to the NCAA violations. Who knows, maybe if Colangelo really is calling the shots, Brown will get another run in Philly before he finally retires for good.
As for his suggestion that the Sixers use AI, who has gone on record calling himself a "basketball genius," it could be a mutually beneficial relationship. At the very least, Iverson could provide first-hand anecdotes aimed at curtailing any late-night carousing.
No matter how you may feel about Brown or Iverson, there's no denying that their run together in Philly brought out the best basketball from that team in this century, and considering the putrid product the Sixers are putting out onto the court nowadays, it certainly would be interesting to see if they could turn the franchise in the right direction. Then again, it's purely conjecture because they just re-upped with Brett Brown for another two years.
(Via Sheridan Hoops)