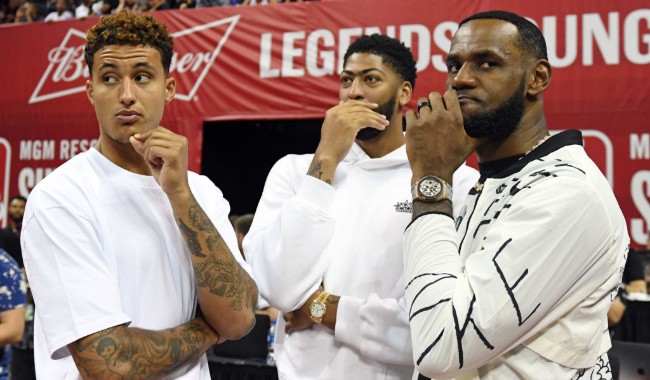 LAS VEGAS – Brett Lashbrook is a tough guy to read. Boasting a parma-smile, seemingly inexhaustible supplies of energy, and the ability to speak in hyperbolic but still somehow feasible sentences, he's the perfect person to make a home in Las Vegas. He won't just make you believe the dream is real; he'll make you believe you can — and should — be along for the ride.
Lashbrook, the CEO and owner of the Lights, the city's United Soccer League team, came to Vegas like many others, with a home elsewhere (the midwest), a background in law and business (working for Major League Soccer in the commissioner's office, and as COO of the Orlando City Soccer Club – which finished its first MLS season in 2018), and a goal in mind. His was simple: Bring soccer to Las Vegas and capitalize on an untapped population that was previously pushed to the margins in favor of tourism, most notably on the five miles of the Strip.
"There are 2.2 million of us who live here: none of us live in that five miles," Lashbrook says on the field at Cashman Stadium in early March. "But due to the stigma of sports gambling, major league teams were hesitant to be here. We are just catching up from 20 years ago."
That stigma is changing, and Lashbrook wants to be part of it. Vegas was the second-largest city in the world without a soccer team, and completed its first season in 2018. The first year they shared Cashman with the 51s (now the Aviators), previously the AAA affiliate of the Mets, but now the Athletics. The Aviators moved to Summerlin, a community west of Las Vegas proper, and Lashbrook stepped in to make Cashman more soccer friendly.
In June, the team and city took the next step towards potentially getting an MLS team when the city council unanimously approved plans to build a new stadium at the Cashman Field site. The team would continue playing while negotiations with the league and construction occur. That'd make for a fourth pro sports team in Las Vegas, which had none just a few years ago. And that's only the beginning.
"Teams should reflect their community," Lashbrook says. "The Packers and the Steelers reflect that Midwest, hard-working attitude. The Lakers reflect that Showtime mentality. We live in the entertainment capital of the world. In a city that allows us to color outside the lines. To be unabashedly Las Vegas."
***


There's no question the Golden Knights are unabashedly Las Vegas as well. The team caught lightning in a bottle during 2018's storybook run to the Stanley Cup Finals. The team plays at T-Mobile Arena, known for hosting boxing, UFC, and concerts, and complete with a Hyde Lounge in the rafters.
The Knights brought over-the-top theatrics to their home games, featuring Medieval Times-style choreography before the puck dropped, smoke shows, flashing lights, sensory images on ice, and a drumline. Noteworthy celebrities from Lil Jon to the members of Imagine Dragons consider themselves fans of the team, and the instant success endeared the squad to locals almost overnight. Watch parties occur for almost every game, with the dulling sounds of casino playlists replaced by broadcast audio turned up to 11. Golden Knights decals, hats, and shirts are present from Henderson to Summerlin.
The Golden Knights made the playoffs again in 2019 but were unable to make magic happen once more — they suffered a first-round exit after finishing third in the Pacific Division. The team's future is bright, something that can also be said of the Aces, the city's WNBA squad that's in the middle of its second season. The Aces became instant darlings from the jump after relocating from San Antonio. They took star A'ja Wilson with the No. 1 pick in 2018, and currently sit in first place in the West (10-5) under coach Bill Laimbeer.
"People are seeing the benefits of sports in Las Vegas," says Lance Evans, senior VP of sports and partnerships for MGM Resorts. "We've always done world-class events in town, and done them on a global scale. But I think having the constant visibility of a professional sports franchise for an entire season put the spotlight on the city itself."
The success of the Knights, Aces, and Lights is a precursor to the pandemonium coming in 2020 just across I-15. The Raiders are making their way to the city, bringing name brand recognition, cultural appeal, a head coach who should take to Vegas instantaneously in Jon Gruden, and a stadium that is shooting to enhance, not replace, other entertainment options around the Strip.
For eight home games a year — plus preseason games and, if all goes well, a few postseason contests — there will be more destination weekends and a chance to capture a wide halo of fans in and out of the city.
Outside NFL games, there are already plans to do everything from host a Final Four, College Football Playoff, and Super Bowl to bringing in marquee concerts and title fights to a massive venue. As with all things in Vegas, entertaining will be at the forefront of the experience (read: spend money, have fun) regardless of how many games the Raiders win in a given season.
"Las Vegas is America's next big sports town," UFC vice president for performance Duncan French says. "It's been a transient town. You come, you gamble, you leave. There hasn't been a historical infrastructure for sports, but that's changing."
The UFC reinforced their commitment to Vegas by opening its Performance Institute in 2017. All operations for the company work out of Las Vegas, from executive offices to video services, and the institute gives athletes a place to train and develop everything from nutritional services to advanced film study.
With the UFC firmly in place, they make for a nice complement to the noteworthy boxing bouts, as well as other sport competitions from darts to rugby and NASCAR to off-road races that make their way to the Strip. But the undisputed crown jewel, and evidence of what could come next, is in July with NBA Summer League.
***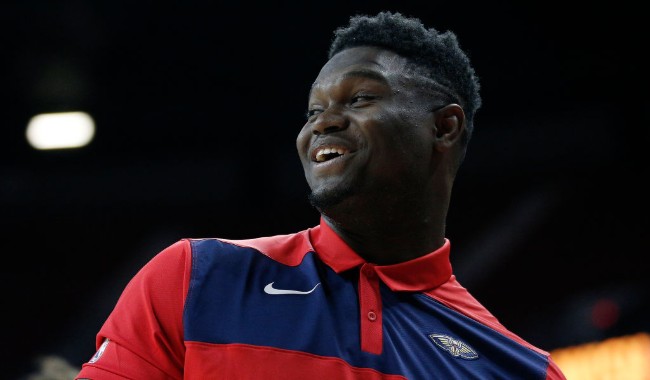 In its 15th season, Summer League is barely recognizable from its origins. Six teams participated in the first installment, and now every NBA team has a presence, with 2019 including international teams from China and Croatia. Summer League sold out the first two days this year, with fans flocking to see the debut of No. 1 pick Zion Williamson.
The hype overflowed into the Thomas and Mack Center, with almost everyone standing in their seat to watch warmups. When Zion did a layup instead of a dunk, he was met with sarcastic boos. When he unveiled his trademark thunderous dunks, the ovation was deafening. It was an atmosphere that's not even replicable in the playoffs; it's a special sort of surreal that's unique to Summer League, with the best comparison coming when Lonzo Ball made his Lakers debut coming in 2017 in front of a raucous, sold-out crowd.
In a bombastic first half, nerves showed, but then Williamson unleashed dunks and athleticism, as well as a play that'll be talked about until preseason in which he ripped the ball away from Knicks forward Kevin Knox and slammed it home. The game also featured some unintended theatrics, with the Ridgecrest Earthquake rippling through Las Vegas, causing the scoreboard and speakers above the court to sway and canceling the rest of the night's games.
Summer League is a destination, with fans making the pilgrimage every year. The league has plans to make the week even bigger, whether that means adding in summits or technology demonstrations, or adding in some NBA2K League elements.
"If we can make this event as big as we can, we're going to," Evans says. "That means other programming around the games themselves, whether that's tipoff parties, concerts, meet and greets, experiential activations, all the things that Vegas does well. We want to do it in a way where fans have more to do than see a bunch of basketball games."
Summer League will continue to be a draw, as will NBA preseason games, the G League Showcase, EYBL, Eurobasket, and the variety of college events that come in from the Pac-12 Tournament to Mountain West Tournament, but it's only natural to wonder what's next.
One question looms larger than any other: Las Vegas is ready for an NBA team, but is the NBA ready for a team in Las Vegas?
For Evans and MGM Resorts, they're not pushing it, which based on what the league has to say about expansion is probably the smart move. Prior to Game 1 of the 2019 NBA Finals, commissioner Adam Silver addressed the media and made it clear that the league has no intention of increasing the number teams it has now. While asked about whether a second Canadian city like Vancouver or Montreal could be at the front of the line for expansion, Silver stated that isn't happening any time soon, regardless of location.
"I've said before that we, meaning the NBA collectively, all our team owners, are very focused on creating the best possible competition among the 30 teams," Silver said. "And I'm sure inevitably at some point we'll turn back to expansion, but it's not on the agenda at this time."
Still, if things stay the way they are, Evans and co. think they can capture enough attention. The success of the Aces has been hard to miss, while the WNBA All-Star Game is in Vegas on July 27. But it's impossible to ignore the whispers as the city draws more and more marquee events and NBA stars to the Strip.
"If we're lucky enough for a team to come to town, of course we'd embrace it," Evans says. "But we're happy with what we have."
Until then, Las Vegas will continue to double down on sports and do it in a way they're known for doing everything: as big and fast and loud as possible.
Uproxx participated in a hosted trip to Las Vegas through the LVCVA as part of the reporting for this piece. You can find out more about our policy on press trips/hostings here.