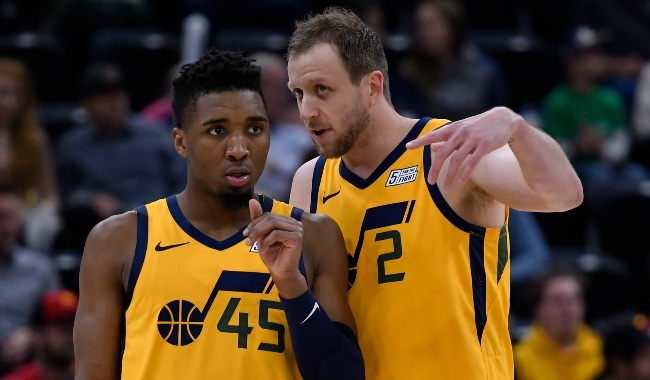 The Utah Jazz do not have a great offense. That was true even last year, when Donovan Mitchell was performing much better than he is this season and several of their other perimeter players were posting far better shooting numbers. The Jazz often play two bigs at a time, they often have several non-shooters on the floor, and they don't have a ton of off-the-bounce individual creativity.
So the Jazz often need to manufacture open looks in other ways. They use a ton of hand-offs, they employ as much misdirection as possible, and they try to get the ball to switch sides of the floor multiple times in one possession, so defenders have to keep changing directions and eventually slip up. When the Jazz are at their best, they cause that kind of confusion, spin the defense into the ground, and actually get some open shots, whether at the rim or behind the three-point line.
Thursday night was one of those nights, and no possession exemplifies those efforts better than this one from early in the second quarter. The Jazz use hand-offs, misdirection, flare screens, and ball movement to create a wide open 3 for Ricky Rubio from the corner. On this edition of Last Night, In Basketball, we break down exactly how it happened.
Last Night, In Basketball is a video breakdown series from the basketball mind of Jared Dubin. You can see the videos for free on Twitter and YouTube, but if you enjoy the work and want to see more, you can pledge your support on Patreon.