On Dec. 1 the Golden State Warriors downed the Orlando Magic easily, and following the contest I tossed two observations about the losing team around a joke about Kevin Durant enjoying chain restaurant pasta. The Warriors have two former MVPs right now that play like it, the franchise is the overwhelming favorite to take its third title in four seasons, and it's been good for a while now.
Dec. 1 is also the date that Latrell Sprewell choked Warriors coach P.J. Carlesimo. It happened during and then after Golden State practice, and it was the first Big Sports Thing many learned about first on the internet, because it happened in 1997.
The incident was supposed to wash the NBA, certain to lose Michael Jordan to retirement in a matter of months. Part of the package designed to leave pro hoops in its rightful place at distant third, while the league did all it could to work around the inevitable.
Kind of. The NBA's owners would go on to lock its players out exactly seven months after the incident; a few days after Sammy Sosa ended June with 33 home runs, pulling to within four of Mark McGwire's 1998 total following just three months of baseball. By then, even after the Dec. 1 outrage, Sprewell and most Warriors were forgotten, as was usually the case by summer for the perennial Easy Out.
Most of the country didn't see the Golden State logo until it was time to pull it out of an envelope. The GM or owner was always on TV for that. So many typically couldn't place the coach of the team until TNT chatted about whoever the Warriors had left on draft night right before GSW made its call on its next selection, replete with either the most or least amount of baggage available at the time.
Adonal Foyle, the Colgate-educated all-time leader in blocked NCAA shots, was the rookie prize entering 1997-98. He came after Todd Fuller, who was drafted well ahead of another more productive southpaw in Othella Harrington (alongside two NBA MVPs) the draft before. Fuller's selection came ahead of Sprewell's best season as an NBA pro under Rick Adelman. Adelman's reward for his top player's finest year was a pink slip.
Two Academic All-Americans, meant to buttress a rude dude interior for a franchise that decided to enter 1997-98 with a new logo, new uniforms, and a billboard ad campaign that said something to Bay Area fans about "Mr. Nice Guy," such as he was, being gone for good.
P.J. Carlesimo was the coach now, fresh off a stint pissing off several of Sprewell's friends in Portland. Sprewell was out of shape but certainly not out of usage to start 1997-98, dipping below 40 percent shooting at a time when this just was not allowed while still putting up 21.4 points per game. By practice on Dec. 1, the team was 1-13.
Carlesimo, who appeared on those "No More Mr. Nice Guy" ads in sunglasses typical of the era, was the head coach of a club that didn't do anything well but get out of Sprewell's way offensively, and gather up the shots that he and so many others missed.
Not even trading B.J. Armstrong for Muggsy Bogues — a deal so 1990s that it should have come with a slap bracelet and individual packet of Gushers — helped.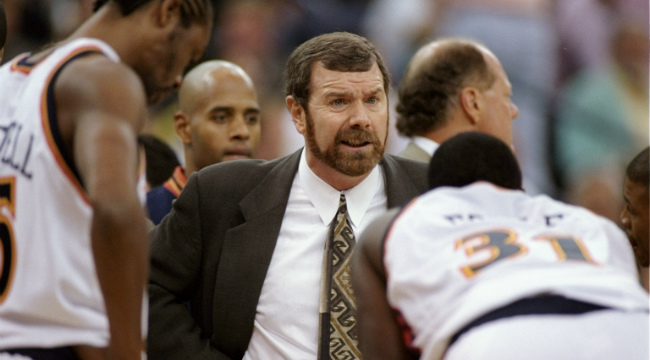 Bogues, the team's second-leading assist per game man behind the ubiquitous Sprewell, was in the passing drill with Latrell when the hardass coach of a 1-13 team approached, with 68 games left to go in this bullshit season.
You know what happened next. The initial clash between the two went beyond the pale and into purple once it was reported that Sprewell spent in excess of a halftime's length at his locker before returning to the practice court to attack Carlesimo again.
A few years and many signed depositions later, new-Knick Latrell would go on to blame the Warriors for not letting Bimbo Coles into the locker room during his cool-off period, claiming that the starting GSW point guard could have talked some sense into Sprewell before he returned to go at his co-worker.
"I wasn't choking P.J. that hard," Sprewell would later let himself say on 60 Minutes. "I mean, he could breathe."
The Warriors happily moved to free themselves from the remaining $24 million on their shooting guard's contract.
In anticipation of the high end 1998 free agent class, retaining an in-prime All-Star whose demerits included 40 percent shooting and 1-13 records and also not choking P.J. that hard seemed a little outrageous, so Golden State's front office moved to inform an entire generation of NBA fans what the phrase "moral turpitude" now meant.
Latrell's response was to plead his case in a press conference televised nationally by CNN back when that seemed to matter. We'd be disabused of that notion, of cable news we mean, by presser's end.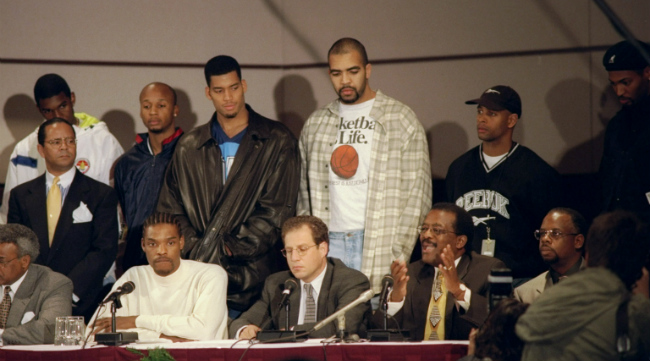 The 27-year old appeared alongside supportive teammates and players union head Billy Hunter, and too much of the 1997 media's response to his explanation couched in comments about Sprewell's thin cornrows. To that point in the NBA, only he and Allen Iverson had worn braids, and now dads and uncles and aunts and moms everywhere (many of them with working TV, print or radio jobs) had the answer right in front of them.
Is it even a complicated question?
Latrell Sprewell grew up, somehow, in impossible surroundings in the coldest parts of cold-as-hell Milwaukee. He came out of nowhere to interrupt your breakfast with obscene SportsCenter highlights during 1993-94, Michael Jordan's first year away from the league.
He was All-NBA that year, and by 1997 he was an All-Star averaging 24 points per game. That dipped slightly under Carlesimo, but Sprewell battled ankle and heel injuries and it was only November. Or, it was.
Sprewell didn't think he'd miss all of December and beyond, and probably never assumed he and Johnnie Cochran (the players union could then afford actors straight from central casting) would be suing the league and the Warriors in a matter of months, correctly chasing the right to argue for the rest of his guaranteed contract.

Here are a few of the things that I'm guessing went through Sprewell's mind on Dec. 1, italicized:
1-13. There's no way.
This is going to suck. The Rockets already beat us twice and we're going to be fighting them for a playoff spot, I've got to drive with Smith and Damp and Donyell Marshall in there. The Jazz beat us by 29 and my heel still hurts like hell and now I'm doing a high school drill in December with Muggsy Bogues?
Joe Smith, the top overall pick and assumed franchise savior from the 1995 draft, by 1997-98 was in the third year of a three-year rookie contract. To this point he'd won 67 games in two seasons plus a month with the Warriors. All he was to the Warriors at that point was trade bait, and it was deadening for all involved.
Latrell Sprewell was charged with making Joe Smith into a star prior to Joe Smith cashing in on stardom with another playoff team, as Chris Webber already had.
Chris Mullin was here this time last year, and now he is not because we made a good trade for Erick Dampier, and I am pretty sure the Warriors think that I'm supposed to be the Chris Mullin, now, and I don't know if that will ever be in my personality.
Garry St. Jean was the general manager, here. Bad owner, but Garry St. Jean was the general manager. Fuller and maybe Foyle – 113 minutes through 11 games by Dec. 1 – were problems but Garry St. Jean was the monkey caught trying to put the cork back in.
Firing Rick Adelman and hiring Carlesimo and the whole tough guy bullshit to save St. Jean's ass in the face of ownership was laughably transparent to everyone but the unsmiling Sprewell, who just a year prior had signed a four-year deal to play for Rick Adelman for a long NBA time.


Bimbo Coles' full name is Vernell Eufayes "Bimbo" Coles. I don't know how to ask him about that.
Carlesimo, as if he were writing the script for the eventual 60 Minutes episode, apparently barked at Sprewell and 20th All-Time Assist Guy Muggsy Bogues to put some "mustard" on the passes they were firing to each other during the Dec. 1 practice.
He may have relived himself in full view of the team for minutes at a time, Jimmy Dugan-style, just prior to this. I don't know.
Nobody's going to trade for me until Mitch Richmond is dealt, that could take forever, and I've got a family here and a house and my cars and I like it here.
I'm just sick of this shit because the Warriors always suck, and even if they trade me to Miami this season for Ike Austin that's not going to happen until February, and they don't even want Austin because of Damp, and now P.J. is yelling at me again …
Sprewell then lost his temper at work before committing a fireable offense that also included, upon his return, what could have been easily argued into pre-meditated assault charges.


After winning his court cases, Sprewell would go on to make the rest of that contract save for the remainder of the 1997-98 money lost after Dec. 1. The courts agreed that the suspended pay should be kept in the pockets of the team that was still trying to find its way with Carlesimo as coach. By then, Smith gone to Philadelphia in a deal for Jim Jackson, Antawn Jamison its 1998 draft prize.
Toss in the pay lost during the 1998-99 NBA lockout prior to his and the league's 1999 debut with the Knicks, alongside Sprewell's cash-sapping outside interests in car detailing businesses and boating, and you can understand (if not excuse) Latrell's infamous 2004 comment about his "family to feed."
Latrell had the good sense to kvetch about a three-year, $21 million contract extension offer from Minnesota just a couple of days into his 2004-05 campaign with the Timberwolves, a season he earned $14.6 million in the final year of a five-year, $61.9 million contract. Sprewell never signed the extension.
(Imagine a soccer star from the 1970s blowing all his money on boats and cars and then crowing about needing millions to feed his family to a reporter, with both presumably wearing tam o'shanters during the discussion. Primal Scream would have dedicated albums to this legend.)
Just like Sprewell himself, you can understand but not fully excuse the entire quote, given a week into his second season with the Wolves, a title-contender whose three-year, $21 million extension offer Sprewell cannily called "insulting."
Understand, but not fully excuse:
"Why would I want to help them win a title? They're not doing anything for me. I'm at risk. I have a lot of risk here. I got my family to feed. Anything could happen."


Everyone cuts out "anything could happen," after hopping on "family to feed," noting the $21 million extension, noting the $14.6 million and the nearly $62 million in full New York signed Sprewell to in 1999 after he dominated the NBA landscape in Michael Jordan's second first-year away from the league.
The league had LeBron by that time and were more or less sick of Sprewell's shit, pointing out again that he had fourteen-point-six-million reasons to "want to help" the Minnesota Timberwolves win a title or even return to the postseason for the ninth straight season. The Wolves failed in both attempts, and have not been to the playoffs since.
There's a person behind all those straight and logical lines, though. Flawed, but still a voice.
Anything could happen.
I'm at risk.
I have a lot of risk here.
I got my family to feed.
All of it could go away. Latrell Sprewell had seen it in his hometown and he'd seen it in his first and second pro towns and he forced it 20 years ago this week.
What a bundle this guy must have been, in practice.
Kelly Dwyer produces The Second Arrangement, now featuring near-daily Behind the Boxscores in most episodes, at tsa.substack.com. New subscription plans start at $5 a month!