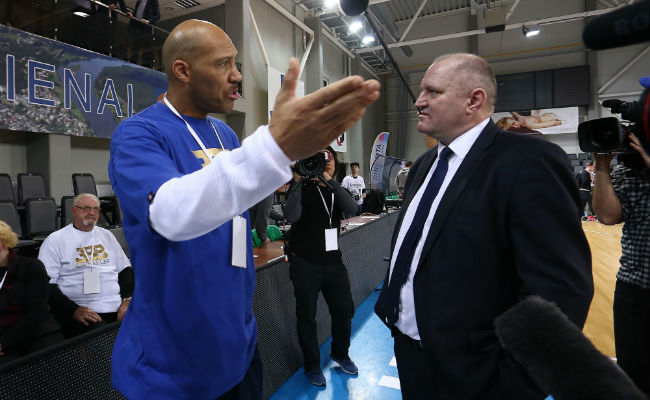 LaVar Ball has plenty to say about the coaches who are tasked with getting the most out of his basketball-playing sons, but now he's getting a chance to see his sons play pro ball exactly the way he wants.
According to ESPN, Ball will serve as an assistant coach for Vytautas on Tuesday night in a Big Baller Challenge game in Lithuania.
Ball will be an assistant coach against BC Dzukija on Tuesday. The Big Baller Challenge is the 5-game series of friendlies Vytautas set up when the Balls were signed in December. The games were a way to get the Balls more playing time, as the team's regular season schedule is against much bigger, older teams.
"He will be an assistant coach on game protocol but will drive the team through the game and make many of the decisions," a Vytautas spokesperson told ESPN. "The style the team is going to play is going to be LaVar's choice."

The team is undefeated in the Big Baller Challenge, where everything from the court to the refs shirts are emblazoned with the BBB logos. While the Ball boys (and the team) have struggled in the upper league, the Challenge games have been a chance to sell tickets and, of course, embrace the Balls and all the attention that comes with them.
Now, they'll get an opportunity to embrace LaVar Ball's every desire on the court.
Vytautas coach Virginijus Seskus told ESPN through a translator, "LaVar wants the team to play fast. He also has an idea for a new way for the team to play defense, so we're going to try it out tonight. Today we'll be like two equal coaches, but this will only be for the friendly match. We'll see how it goes today."

"Why not let him do it? It's only a friendly match. It will end, and everyone will forget about it."
It will certainly make for an interesting sight to see Ball coaching on a professional court. There's also a very good chance he gets to break out the Big Baller Brand ties, too.