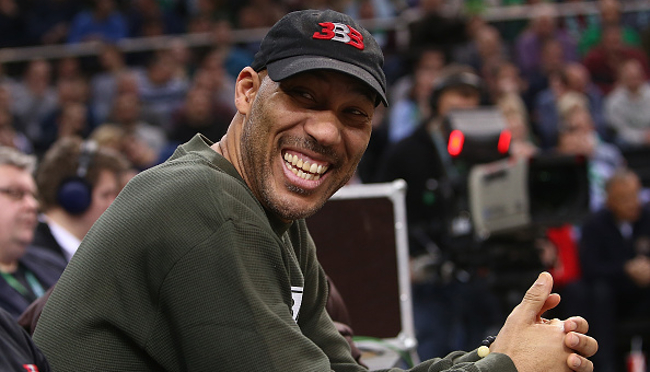 The first year of LeBron James on the Los Angeles Lakers has seen a steady drop off in the amount of LaVar Ball we were subjected to during the 2017-18 campaign. He did pop up at one point to say Lonzo Ball is better than this "old" version of James, but for the most part, Ball hasn't tried to start a fight with the president of America or anything.
We did have a Ball sighting this week, although compared to past Big Baller emergences, this one is rather tame. Big Baller Brand posted a video of Ball standing in his living room or something to announce the inaugural Big Baller Brand All American Game. In it, Ball took a shot at the McDonalds All-American Game, declaring "people don't even eat burgers no more."
"I'm giving you guys the Big Baller Brand All American Game," Ball said. "Who wouldn't want to give they son they own game? It's just the name of a game. Man, people don't even eat burgers no more. Who wants to go to McDonald's when you can go to Big Baller Brand? That even sounds better on your wall; 'The Big Baller Brand Game.' That's the biggest one ever, and it's going to be the first one, and it's gonna have Melo playing against the top prospects in the country."
While that statement about burger consumption is a bit dubious, there certainly will be some talented high schoolers in attendance. LaMelo Ball will lead an East Team featuring four-star Michigan State commit Rocket Watts, four-star DePaul commit Romeo Weems, and four-star undecided prospect Christian Brown. The West Team will be led by undecided five-star big man Jaden McDaniels, four-star Texas Tech commit Jahmius Ramsey, four-star Oregon commit Isaac Johnson, and four-star Georgia commit Jaykwon Walton.
The game will take place on March 31 at Orleans Arena in Las Vegas.